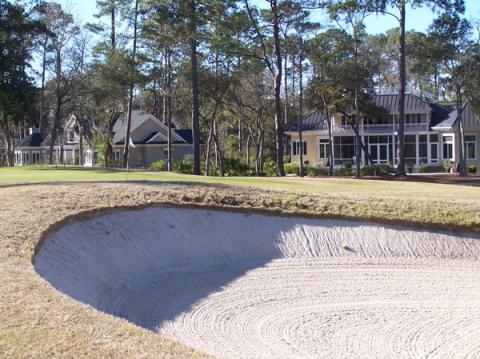 Something for everyone: The Landings at Skidaway Island, near Savannah, is a viable option for a golfer married to a non-golfer. The golf on the 4,500-acre community's six private courses is excellent, and the fascinating city of Savannah, loaded with culture and conveniences, is just 20 minutes away. (Note: A couple I am working with is considering purchase of a home at The Landings after a recent visit.)
This being April 1, I thought it fitting to offer up some foolish things to avoid when looking for a golf community. Here, in no particular order, are a half dozen cautionary notes.

1. If you are serious about a place, don't just take the 90-minute tour or stay over one night and then decide it is where you want to be for the next two decades. That may seem an obvious caution but some people fall in love with the "vacation" feel of a short stay and figure it will be that way always. Maybe, but sometimes not. Communities have personalities, and they tend to reveal their true selves over time. Stay longer and you will understand such intangibles as what the service is like in the clubhouse, whether the food is good, if members of the club show respect for the course by fixing their divot marks in fairways and on greens, and if the traffic outside the gates of the community will keep you a prisoner inside.
2. Don't choose a community for its golf course, and certainly don't choose it after one round of golf (or, heaven forfend, none!). It pains me to say this, but there is more to life than golf. The most golf you will play is in retirement, three or four times a week at best. If your community has just one 18-hole course, will that be enough? Does it present the challenge and appeal that will stand up to repetitive play? Are the tees such that, as you grow older and hit the ball less far, the distances will be appropriate to your changing game?
3. If only one of you plays golf, do not - repeat, do not - move to an area removed from a large town or city. The golfer in the family should not have the final vote on where to live. It is easier to find good golf anywhere than it is to find decent shopping, entertainment, and social activities.
4. Don't buy amenities you don't need. If all you care about is golf and the kind of social activities an active club provides, then why do you need to be in a community with a marina (if you don't own a boat), a state of the art fitness center (if you don't work out) or a world-class equestrian center (if you don't ride a horse)? A community loaded with amenities gives the illusion of stable real estate values into the future. But once the developer turns those over to the homeowners, that dream can turn into an expensive nightmare, pitting the horse set against the boat set against the golfers.
5. Don't believe everything you read. Communities hire advertising and marketing agencies to make their places seem like paradise (indeed, the word "paradise" is the most overused by communities). Magazines, for example Where to Retire, provide rankings that purport to tell you the best places to live. Take these with a grain of salt; often, the best-places-to-live list should be called the "Top 100 Communities that Advertise in Our Magazine."
6. Private club membership is not always better than semi-private. If a private equity club is well run by members or an experienced operator (Troon North, for example), then private membership certainly can be worth the higher costs. But a well-run semi-private club provides the stream of income necessary to pay for ongoing course maintenance without assessments and dues increases. There is a price tag on exclusivity versus sharing your course with outsiders. But high-level semi-privates tend to have the feel of a private club at a significant discount, and they respect and give preferences to their members.

There are many other cautionary notes that you will find by scanning the archives here and coming back to GolfCommunityReviews for future observations. If you have any questions at all about looking for property in a golf community, contact me and I will be happy to answer them...no foolin'.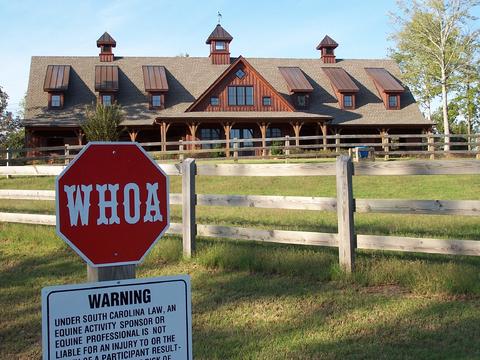 We have nothing against the equestrian set, but if you do not ride horses, do you really want to risk eventually subsidizing those who do?