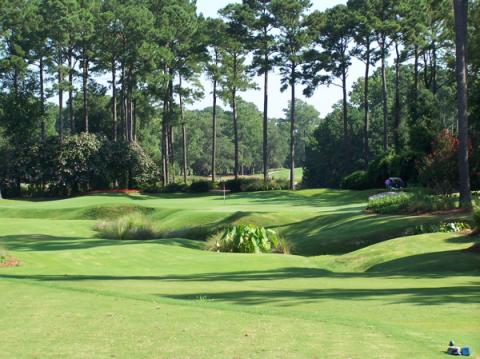 Like the rest of the course, the par 3 12th at Caledonia in Pawleys Island, SC, shows plenty of spunk but no adjacent homes. Residential communities are off property, just north and south of the golf course.

Golfweek magazine's annual ranking of golf courses "you can play" was published a week ago and, as usual, the publication does not look favorably on courses with homes adjacent to fairways. A few, however, did make the cut.
Chief among those in the southeast is Cuscowilla, which perennially finishes first or second nationally when Golfweek publishes its list of best residential golf courses (coming in the next few months). Cuscowilla, about 90 minutes from Atlanta, is a Coore/Crenshaw layout that shows great respect for the land that abuts Lake Oconee. It doesn't appear much earth was pushed around and the native grasses are in abundance. The
Pinehurst is paradise, with the highest concentration of high-quality courses playable year round.
architects went so far as to mix sand for the bunkers with the native Georgia clay, giving the sand an indigenous and attractive red caste. Cuscowilla was named 39th overall of the "best modern courses" in the nation and #1 on the "best courses you can play" list in Georgia. Three of the much praised Reynolds Plantation courses just across Lake Oconee finished in the 5th through 7th places on the Georgia list and not on the national list.
Of course, Donald Ross' legendary Pinehurst #2 course copped top honors in North Carolina and 11th place nationally. For those who would play golf 24x7 if the sun shone always, Pinehurst is paradise, with the highest concentration of high-quality courses playable year round. The magazine lists six courses within 30 minutes of Pinehurst on its top 10 in North Carolina, including the wild and wacky Tobacco Road, which I played last year and reviewed extensively on this site. I noted with some interest that the community-oriented Leopard's Chase, a new course north of Myrtle Beach, also made the
Golfweek
state list, as did River's Edge in Shallotte, NC, a community course designed by Arnold Palmer.
In South Carolina, the Ocean Course at Kiawah Island of course tops the state list and ranks #20 nationwide. But after Harbour Town's #2 slot, the rest of the state is almost entirely a Myrtle Beach area affair, and
Golfweek
doesn't seem to mind the presence of homes on many of them. You can see some homes from the venerable Dunes Club (#3) but almost none adjacent to the Augusta National-like Caledonia Golf & Fish Club (#4). The Mike Strantz masterpiece also squeaked onto
Golfweek
's list of Best Modern Courses at number 100. The rest of the Myrtle Beach list, which included Tidewater (#6), True Blue (#7), TPC at Myrtle Beach (#8) and Barefoot Landing's (Davis) Love Course (#10), are all unabashedly part of communities.
Grand National, a course I played during my trek along the Robert Trent Jones Trail in Alabama week before last, weighed in at #5 on the Alabama list, just edged out by #4 Ross Bridge, another Trail course. I wrote here about my round at Grand National
[click for review]
, which is midway between the university town of Auburn and Opelika. Grand National has no homes adjacent to its layout, but a community of single-family houses is going up just down the road. I liked the course a lot but thought Oxmoor Valley, near Birmingham, was an even better layout.
When I scanned the list of courses in the golf-rich state of Florida, I couldn't suppress a smile. There ranked at #13 was the Golf Club at North Hampton, an Arnold Palmer links-style course between Fernandina Beach and Jacksonville. It was a revelation when I played it a year ago because it was the first Arnold Palmer course I liked and because I liked it a lot, one of the best I had played in recent memory. It is always nice to have an opinion validated by the experts.
For a link to
Golfweek
's "best of" lists,
click here.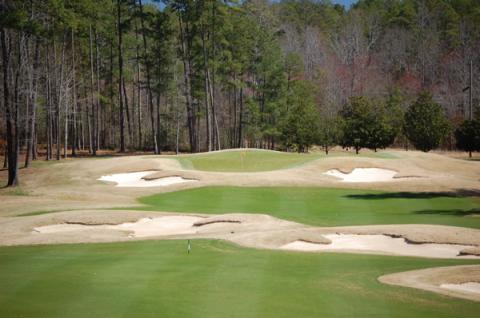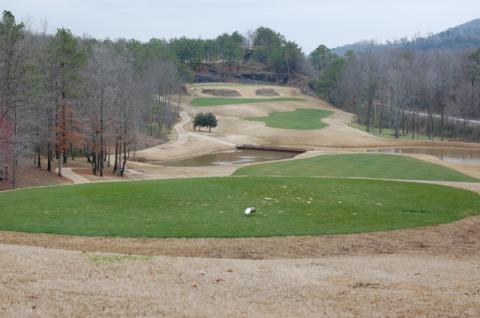 Although Grand National (see photo of 5th hole, top above) made Golfweek's top five list for best accessible courses in Alabama, I thought Oxmoor Valley (bottom photo, 3rd hole) was every bit as good and even more challenging.