The first decision any of us make when contemplating a move to a new home is how much we are prepared to pay for it. There is no sense looking at a community of $1 million homes if our budget is $500,000. But sometimes first impressions of a community are deceiving. The price ranges are wider and the options more diverse than might meet the eye.
I have been conducting a little informal research over the last few days. I scanned the web sites of some "high-end" communities that I have visited and reviewed in recent years, looking at the highest priced and
Some price ranges do indeed say "Middle Class Need Not Apply," but others are more egalitarian.
lowest priced homes currently for sale in each. Some price ranges do indeed say "Middle Class Need Not Apply," but others are more egalitarian, offering someone ready to spend, say, $300,000, an opportunity to live down the street from someone who shelled out $3 million. And although you may never be invited to sip champagne at that mansion on the hill, you could have the last laugh; it is often better to be on the bottom than the top of the market, for appreciation's sake.
What follows are some brief notes on a few communities and the prices of their homes at both ends of the market, including comparative details like square footage, number of bedrooms and bathrooms, and other distinguishing characteristics (where available). I'll follow up with a few more examples in the coming days. I've also added a short list of other communities in the area that are worth investigating and not as pricey at the top end.
By the way, if you want further information about these communities or any others in their areas, please
contact me.
I have excellent relationships with qualified real estate agents in these areas and am happy to refer you to them. They have sold homes in all the golf communities and can provide you details on each, as well as answer questions about the surrounding area. There is no cost or obligation to you whatsoever.

Governor's Club, Chapel Hill, NC
High: $1.6 million, 1 acre, 7,400 sq. ft., 5 BR, 5/2 BA.
Low: $299,000, town home, 1,640 sq. ft., 2 BR, 2 ½ BA, 2 car gar.
The first thing you notice after you enter Governor's Club, besides the tight, well-organized security at the front gate, is the topography of the place. You literally drive up the main street and then down and then up again, passing homes perched on sizable lots with many large rock outcroppings dominating the front yards. I have not visited a community that looks quite like it. The 27-hole Jack Nicklaus Signature course is tough and well tended by an involved membership. I would not have expected any real estate in the community to fall short of $300K, but there it is, a town home that could serve as a second home or great way to test the community for a while. Governor's Club is the type of community that should help you make friends quickly, whether on the golf course or in the amply appointed clubhouse. Loners need not apply.
Also consider: Chapel Ridge, The Preserve at Jordan Lake.
Mount Vintage Plantation, Aiken, SC
High: $830,000, unknown acreage, sq. ft; 4 BR, 4/1 BA, golf view
Low: $419,000, unknown acreage, sq. ft: 3 BR, 2/1 BA
I have a soft spot for Mount Vintage. It was one of the first golf communities I visited, professionally speaking, three years ago, and the first with a combination of equestrian and golf amenities. The rolling landscape cut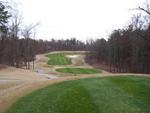 and framed by long lines of white fencing, the horses grazing on front lawns, the enthusiastic sales staff and the pioneering spirit of the early residents impressed me. The course was a sleek Tom Jackson layout, and the local developers have since added another nine holes, with nine more on the drawing boards. Aiken itself is straight out of central casting for small southern town, but make no mistake, the town is no backwater. Some Mount Vintage residents rent their homes out during a week in early April for thousands of dollars to PGA tour millionaires and well-heeled spectators in town for the Masters 20 minutes away at Augusta National.
Also consider: Cedar Creek Plantation, Woodside Plantation, Pine Ridge Plantation (nearby Edgefield).
Landfall, Wilmington, NC
High: $7.5 million, 1.3 acres, 7,800 sq. ft., 6 BR, 6/2 BA, in-ground pool, 230 feet on Intra-coastal waterway, boat slip.
Low: $529,000, ¼ acre, 2,475 sq. ft., 3 BR, 3 BA.
I was not a fan of Landfall after its golf director had an assistant tell me I was not welcome to visit and review their community and its two private golf courses (Nicklaus and Dye). It was some bs about ruining their "non-profit" status if I promoted their course. (Hmmm, presumptuous and arrogant all in one.) That has only happened one other time in four years and 90 community visits. But I have my ways, and through a local Wilmington real estate contact, I was invited to play the Nicklaus course on a very cold January day (the hot corn chowder they served at the turn was fabulous). Landfall appears to be popular in spite of being one of the least self-promoting communities. That may be a sign of that same arrogance or maybe word of mouth works for them. In any event, the Nicklaus course was excellent and very difficult under the extreme weather conditions. I'd like a shot at it and the Dye course on a decent day, so if the Landfall nabobs are within the sound of my voice, here's your chance to make it up to me.
Also consider: Porter's Neck, Castle Bay, Magnolia Greens, River Landing (35 minutes away).
Governor's Land, Williamsburg, VA
High: $2.25 million, 4/10 acre, 6,000 sq. ft., 5 BR, 5/1 BA, private beach on river, William Poole designed house (a big deal in the south), river views.
Low: $595,000, ½ acre, 3,100 sq. ft., 3 BR, 2/1 BA
A river runs through Governors Land, and around it, and what a river it is, wide and historic, and flowing between Williamsburg and Jamestown. The community oozes history; Native American artifacts were found during construction of the course, some of which are displayed proudly in the Governors Land sales office; and an underground tarp covers some of the ancient grounds on the finishing holes near the river. The
course is a fine Fazio layout, my only disappointment being that the river serves much more as eye candy than hazard. Daily fee golf in the area is spectacular, with the lauded Golden Horseshoe and Kingsmill Resort courses within 20 minutes. And the Arthur Hills layout at Colonial Heritage is a masochist's delight, the toughest in the area. Governors Land is just six miles from Colonial Williamsburg but feels as if it is 50, providing the best of both worlds - privacy and convenience.
Also consider: Ford Colony, Kingsmill Resort, and Colonial Heritage (55+).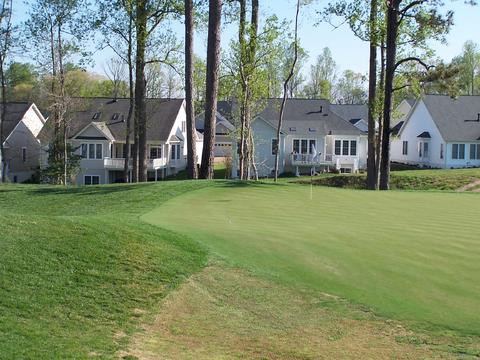 Homes at Colonial Heritage, an age restricted community in Williamsburg, VA, are close together and not McMansions by any stretch. But prices are in the low-mid six figures and the Arthur Hills course is a winner.