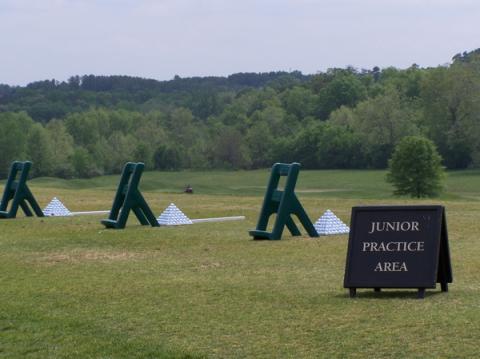 Some clubs, like Glenmore, outside Charlottesville, VA, know that their future membership depends on a vigorous junior golf program, and that if they can get Junior interested, they have the best chance of getting mom and/or dad to get out on the course more.
Mark Twain, not a great friend of golf, coined the phrase "a good walk spoiled" for the game many of us love. Today, another of Twain's famous bon mots, about himself, are equally appropriate for the game: "Rumors of my death have been greatly exaggerated."
The latest shovelful of dirt on the great game appeared in the New York Times last Thursday, under the headline "More Americans are giving up golf." The newspaper cited statistics about fewer total rounds played and fewer rounds by devoted golfers as signals of impending doom. The overall theme of the article was that
Back in the heady days of private golf clubs, "Never a wait" meant free and easy access. Today, it is code for "in trouble, not enough members."
"men" - the
Times
' word, not mine - find the game too time consuming. The 21st Century man just won't spend four hours away from his house and family, according to the
Times
piece.
As we political junkies found out in the Democrat primary in New Hampshire in January, when the polls wrote off Hillary Clinton but the actual voters didn't, numbers mislead. Or, rather, what is true today may not be true at all next week.
Golf is hurting a little if you go strictly by the numbers. The National Golf Foundation reports those who have played a round or more annually have dropped from 30 million to 26 million so far this decade. And the serious golfers, those who play 25 or more rounds annually, are down about 30%, to 4.6 million. But if you take the number of golf courses nationwide, 16,000, and apportion all the serious golfers to each one, you have a theoretical "membership" of 288 dedicated golfers per course. Throw in the other 22 million or so casual golfers, and the game has a great base from which to build, or rebuild if you see the glass half empty.
A little negative hysteria may be good for the game long term. Some member-only golf clubs need to be shaken and stirred to get off their high horses and use more creative ways to attract and embrace new members. Times are changing, and the days of entitlement in the guise of "exclusivity" are coming to an end for many clubs. Some longtime members will not give up easily their entitlement to just walk up and play whenever
Arrange for a husband and wife scramble event (Captain's Choice) where the non-playing spouse putts on each green.
they want to, without deigning to call ahead. As membership committees try new and creative strategies to attract non-tradiitonal members, they can look forward to whining about the threat to their club's private club panache. They need to consider that, back in the heady days, "Never a wait" meant free and easy access. Today, it is code for "in trouble, not enough members."
Here are a few ideas I've conjured for private golf clubs to reinvigorate their membership rosters:
Start a junior golf program if you don't have one, or invigorate the one you do have. Do whatever you can to get the entire family out on the course. If the spouse is a non-golfer, arrange for a husband and wife scramble event (Captain's Choice) where the non-playing spouse putts on each green. (No, you don't need to put windmills out there.) Try other creative approaches to get the non-playing spouse or kids onto the course.
Your course is not Augusta National or Pine Valley, so don't act like it. Host "Open Kimono" days. Invite local non-members to play the course, for a modest fee, and their families to use the pool and dining facilities. Have your pro give tips that day on how to play the course. Promote the heck out of the event, and consider holding it a couple of times year.
Make "deals" with local real estate agents to provide every one of their buyer clients with an attractive package of club materials, including application, a coupon for dinner and a round of golf with a member. Make similar deals with listing agents; offer their clients a reduced initiation fee if they offer "free" private club membership to anyone who purchases their home. Check the newspaper listings of all homes sold in your town and send notes to new neighbors inviting them to check out the club.
Instead of worrying about the local high school golf team encroaching on your course from 4 p.m. to 6 p.m on weekdays, encourage them to practice at your facility and play their home matches there. They are your members for the future; and their parents are potential members right now. The weekly items about the golf team in the local paper are constant publicity for the club. And a rooting interest in the local high school's team could bind the club's members.
If you have no corporate membership plan, consider one. Make an initiation fee attractive to local small businesses to generate dues, which are more important to the cash flow and lifeblood of the club. Consider a Small Business Day golf outing to attract new company memberships.
Develop an outreach program to the local community, and put your director of golf at the forefront (your golf pro if you don't have a golf director). If you are hurting for members, do you want your golf pro spending four days on a golf trip with four couples who already love the club or making presentations to the local Chamber of Commerce and others to talk up your course? Member retention is a worthy goal, but generating new members in crunch time is more important.
Recruit your membership committee carefully. If you have any car dealer members, encourage them to participate. They not only know how to sell, but they will counter other committee members who see every creative idea as an attack on their birthright of belonging to an "exclusive" club. Pay too much attention to these nattering nabobs and you will indeed have an exclusive club...as in just a handful of members.
Less may be more. If your club offers extras, like a fitness center or tennis courts, that a modest few members use, consider making some tough decisions to close down the money losers. Figure out the distractions to management, as well as the financial costs, of the lightly used amenities.
Golf community clubs face similar challenges of attracting new members, but they do not have to look as far for a rich market. More than 50% of those who live in golf course communities do not currently play the game. Marketing and communication costs to get at them are so low it would be silly not to make every effort to promote the game to them. Consider adding a new set of forward tees to make the game enjoyable to these newcomers right off the bat.
Golf has a great inherent advantage over virtually every other recreational activity except, perhaps, walking and bowling (and does anyone bowl anymore?). You don't need a companion for a round of golf, but you can always have one if you want, a friend or potential new friend, spouse, son or daughter. This fundamental essence of the game is still there and will not go out of style in spite of a few poorly managed clubs, or the
New York Times
.
You can find the
Times
article at the
Times' web site.