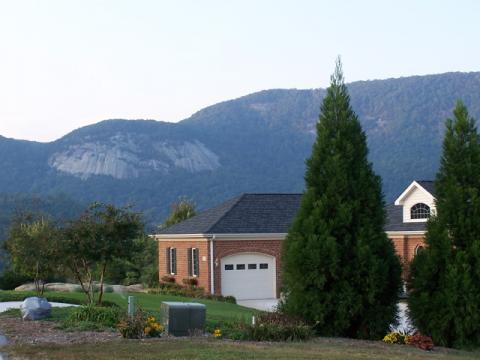 Older homes at The Cliffs at Glassy in South Carolina may soon join newer ones in being environmentally up to date. Developers at the Cliffs Communities have joined a small but growing group that promotes green construction.

Many of us building our dream homes in the coming years will be looking to include environmentally and financially sound materials and systems. Our objectives, though, may run up against developers stuck in the old way of building houses.
A friend of Golf Community Reviews found this out the hard way recently. (I'm not using his real name or that of the community in question since the issues could be resolved in the coming months.) A few years ago, Jay and his wife Kate bought a nice golf course lot in the community of Analog Mountain. They had always intended to build as "green" a house as possible, including environmentally neutral materials throughout. Recently, they
Some "preferred" builders are actually mandatory to use."
decided that, even though they are both still working, they would build the home at Analog and use it as a vacation place for themselves and their children until retirement time, when they would move there full time. Jay is a golfer, and Analog has a terrific 27-hole layout.
Then the couple ran up against a brick wall, in a manner of speaking (most of the homes in Analog are brick). The developer provided them with the list of its preferred builders, just a half dozen, one of the shorter lists I've encountered. Other communities maintain lists of up to 20 or more, if they have any such list at all. To make matters worse for Jay and Kate, Analog's "preferred" actually means mandatory. You must choose from among the limited number of builders on Analog's list.
Developers will tell you that they rely on a preferred list to ensure control of the building designs and exterior materials, to keep the architectural style of homes pure and indigenous. That is a bit misleading since virtually all communities maintain architectural review boards (ARBs) for such purposes. These boards comprise homeowners as well as the developer's representatives. The more likely explanation is that developers can control the contractors' pricing by restricting choice; the builders are virtually guaranteed work throughout the
"If developers don't start building green, they will be out of business in five years." -- Adam Ney
year, in exchange for which they offer sharper pricing which the developer can tout in marketing materials. That works in theory but, as Jay and Kate found out, not in practice if you want to build a green home.
The couple interviewed the six preferred builders at Analog. They were surprised to learn that none of them had ever built even a partially green home. A few said they would be happy to build the home but they would have to charge Jay and Kate a premium to call in more experienced green sub-contractors. As you can imagine, the couple wasn't thrilled to learn their builders would be learning on the job and being paid extra by Jay and Kate for the training.
Adam Ney thinks such contractors are way behind the times. Adam is co-founder of AuctoVerno, LLC, a green-building marketing services firm in Connecticut and promoter of sustainable construction.
"Residential green construction is gaining momentum," Adam says. "[Developers] think the cost is way too high, but it is not so and there is a ton of low hanging fruit...like eco-friendly paints, [which] are the same price as traditional paints. And while most developers think that going green will cost anywhere from 15-20% more than the traditional spec, the World Business Council on Sustainable Development released a report recently that says the upfront costs are really 5%."
Adam adds that the payback for an owner of a green house is 16 to 24 months, and that Moore's Law -- every 18 months technology costs are cut in half -- points the way to much more affordable green materials in the next few years.
Jay and Kate's initial pleas to the developer to bring in the couple's own green-savvy builder have been rejected. Although they have contemplated legal action, they know that even if they win the battle, they could face obstacles ahead from the developer and, potentially, their neighbors who might thumb their noses at the prospect of solar panels and other architectural details at odds with current community standards. That would be no way to start a life in a new place. A little patience may be on their side as developers catch up with more and more of their customers.
Indeed, a few golf course communities, like The Cliffs in the Carolinas, have extended their efforts beyond the Audobon friendly practices on their golf courses to green construction of their homes. Adam Ney thinks more and more communities will join them.
"If developers don't start building green," says Adam, "they will be out of business in five years because every development around them will be green."
If you are interested in learning more about green building, visit the AuctorVerno web site at
BuildingCTGreen.com.