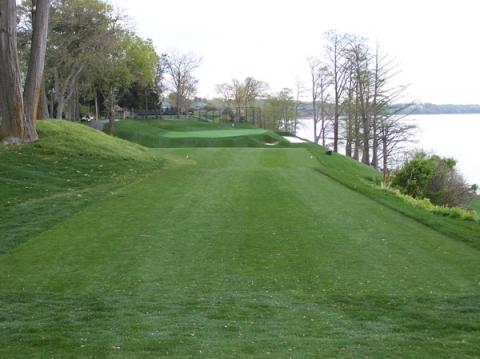 Williamsburg, VA, is on Air Tran's list of destinations. You could be be playing the terrific 17th hole at the Kingsmill Resort in a few hours from many locations in the northeast and midwest, and at an airfare under $100.

I travel enough between Connecticut and destinations in the southern U.S. that I am always on the hunt for bargain airfares. Bradley Airport, between Hartford and Springfield, MA, is my ideal departure point, but flights to most destinations from Hartford are consistently and incomprehensibly expensive. I'm not fond of driving the two hours to New York or Boston, even to save $200 on a roundtrip. Pay the gas, the tolls and the parking for a week, and it is pretty close to a wash.
I have been hunting for alternatives and, although not ideal, I think I have one. Next week, I am flying for the
On Air Tran, you won't feel as if some evil airline algorithm has trapped you in airfare hell.
first time from Newburgh, NY's Stewart Airport on an Air Tran nonstop flight to Atlanta. A week later, I'll fly nonstop from Atlanta to Charleston, SC. The total cost for the two legs is just $239. Those same flights if I started from Hartford are priced at $859. The cost from the New York metro airports is just $151.
Newburgh is 97 miles from my house, 30 less than the trip to New York City and all via interstate, with no unpredictable city traffic. If the Air Tran departure times were a little more convenient from the Westchester County Airport in White Plains, NY, I would have chosen to depart from there since it is ten miles closer to home and the flights the same price as from Newburgh.
Air Tran is not the only small, off-price airline to have tried to fight the bigger airlines. The industry slagheap is littered with names like People's Express, Independent Air and others, all decently managed airlines run into the ground by competition, the fight for airport slots and fuel costs. I mourn the loss of Independence Air, which did fly out of Bradley at cheap prices through Charlotte to Myrtle Beach, SC. I am hoping that Air Tran gains even more market traction and someday offers service from Bradley (and into Myrtle Beach, 35 miles from our second home). The airline, which operates a fleet of Boeing 717s configured with one seat on the left side of the plane and two on the right, is now in its 15th year of operation and serving 55 cities, with 750 flights daily, 270 of them from their hub in Atlanta. The airline announced last week that it would begin serving Burlington, VT, in May.
Contrary to its larger competitors, AirTran's rate structure does not penalize its customers for flying just one way or on a multi-city route, nor does it offer discounts for round trip flights. This is a much simpler and civilized way to fly, although civilized flying is an oxymoron. But at least you can mix and match flights on Air Tran without feeling that some evil airline algorithm has trapped you in airfare hell.
Air Tran runs specials often, and here are a few samples of the lowest one-way fares available today at AirTran.com for flights in late February and early March. All involve one stop in the modern Atlanta airport:
Pittsburgh to Raleigh/Durham -- $61
Minneapolis/St. Paul to Savannah -- $74
Buffalo/Niagara, NY to Jacksonville, FL -- $69
Dayton, OH, to Williamsburg, VA -- $80
GolfCommunityReviews works with qualified real estate agents in all these southern markets and many others. To maximize your time exploring golf course communities and to provide you with expert and objective advice, contact us for a no cost, no obligation referral.