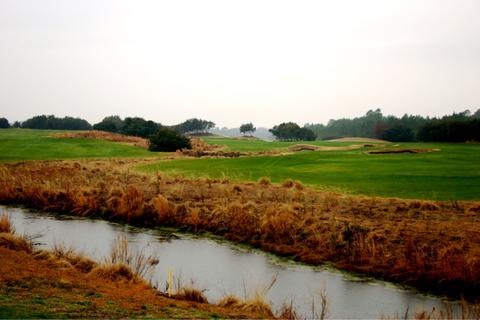 The Legends Heathland in Myrtle Beach is in the Father & Son event's rotation. Photo by Elliot DeBear

After competing in the National Father & Son Team Classic in Myrtle Beach for six years, my son Tim and I took the last two years off. The $795 entry fee - now up to $895 for prior years' participants and $1,045 for first timers - was getting a little steep, and college visitations and other scheduling issues made it difficult to work-in the four-day commitment (three days of competition plus one day for a practice round and registration).
The substantial entry fee is a little deceiving, especially if you need new equipment or accessories. Martin's, a huge golf equipment and apparel
Nothing good can come of alternate shot competition; you can only hope that nothing too bad does.
store in two locations in the Myrtle Beach area, offers $400 worth of credit to each team, effectively reducing this year's fee to $495. As soon as teams register, they make a beeline for the store to pick up that new putter or wedge or hybrid they think will put them over the top in the event. I just buy a dozen golf balls and save the credit for later.
Golf fees at the three courses you play is included, with cart; at summer rates in Myrtle Beach, that averages out to about $50 per player per round, or another $300 for the team. (If you are lucky enough to be chosen to play at Grande Dunes or Tidewater, for example, the value is closer to $100 a round.) Throw in the free lunches, the hats, shirts and "premium" golf balls everyone gets (Slazenger $20 per dozen balls, as I recall), as well as the tournament-ending BBQ, and you are pretty close to break-even compared with a weekend golf trip. Lodging is not included and up to you to arrange, but plenty of town homes are available in the area, some adjacent to the 14 courses in the Father & Son rotation. Who knows, you might fall in love with the place where you stay and make the owner an offer.
The competition itself is a hoot, as long as father and son survive Day Two, which features the alternate shot round. Alternate shot is akin to hanging wallpaper with your spouse. Nothing good can come of it; you can only hope that nothing too bad does. This is moving day at the Father & Son event, and if the team is in contention after Day One, the two-man better ball competition, you can see the pressure on their faces, and in their swings. Most teams seem to prepare well for the pressure, and I have witnessed only a few embarrassing moments of sniping between parent and child. The one year that Tim and I won our flight was the year we had our best alternate shot performance, a 76 as I recall.
Day Three is essentially golf's equivalent of a 100-yard dash, the two-man captain's choice which some of us know as a scramble (hit two shots, choose the best, hit two shots from there, and so on into the hole). The teams with the hot putters almost always win the scramble.
The 14 courses are among the best on the Grand Strand and typically in peak condition, despite the searing heat of Carolina summers. This is a chance for The Barefoot Resort, The Legends, Wild Wing and the others to strut their stuff in an extremely competitive golfing market. The service and pleasantries at all the courses are always top-notch. They are betting that if you have a good experience, you will be back to play again.
When we first played in the Father & Son in 1999, the event's second year, the entire field was fewer than 700 players. Last summer, 1,600 players from 45 states and eight countries competed. The tournament welcomes family members with "a Father & Son type of relationship," which means grandfathers and grandsons, uncles and nephews, and fathers in law and sons in law. I will leave it to the sociologists to explain why, but the fathers and sons in law seem to withstand bad shots and controversy better than any other combination.
Team photos are taken for an extra $25, something I paid for every year we played. It is great to see how my junior partner has grown over the years, and not so great to see how the tire tube has grown around my waist.
Tim and I want to play this year, the more so because we think we have our best chance to win one of the scores of flights. I turn 60 before the event, sending me to the sissy tees at under 6,000 yards, and Tim has been playing his best competitive golf ever, at the collegiate level. We think we have a good shot at a slice of the $250,000 in prizes, mostly fancy glassware.
But there is a wedding to go to that weekend in upstate New York that my wife wants me to attend with her. For Tim and me, getting her to give us her blessing to play in the Father & Son will take more skills than alternate-shot.