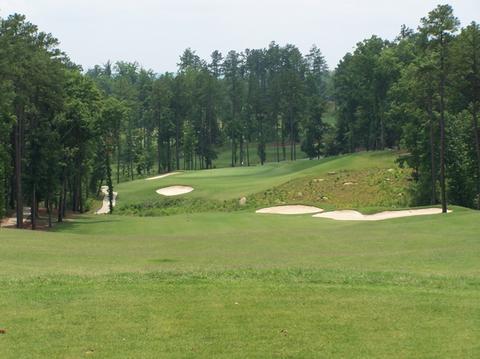 The Davis Love III course at The Preserve is the most challenging in the Chapel Hill area. Trouble from tee to green on the 18th is just a taste of what comes before.

What do you do if you love the mountains and your spouse wants to spend her sexagenarian days near the beach? Is the answer, say, Chapel Hill, essentially halfway between, or is that a compromise that ultimately will satisfy neither?
More and more baby boomer couples face this dilemma. I am working with a couple split between relocating to Asheville (him) and anywhere within 15 minutes of the beach (her). In the name of family harmony, they
What if you want to live at the beach and your husband wants the mountains?
have asked me to suggest private golf communities within two hours of the beach and about the same distance from the mountains.
We all tend to idealize, and sometimes rationalize, where we live. When my wife and I made the decision to leave New York City for Connecticut almost 25 years ago, we knew we were giving up the excitement of the big city for a slower pace and arguably better place to raise children. We swore that the two hours to New York and Boston was close enough and that we would visit both often. As it turned out, we have not averaged even two trips a year.
Let's face it: When you are two hours from the beach or mountains, both destinations look less and less attractive after that first or second trip. You had better hope that where you live offers both of you a stimulating lifestyle, beyond just golf.
The following "sanctuary" cities between the mountains and the deep blue sea are worth considering.
Charlottesville, VA, is less than three hours to Virginia Beach, 30 minutes to the Blue Ridge Mountains. Golf courses are open year round, but a heavy sweater will be in order a few months in winter. No matter. You can spend winter days hanging out in this university town (University of Virginia), especially at the convivial downtown mall, with a wide range of restaurants and shops and a large outdoor concert area at one end. Charlottesville has plenty to offer in the way of culture and big time collegiate sports. Communities worth considering in the area include Keswick, developed by the UK's Orient-Express Group, with $1 million+ homes and a dramatic Arnold Palmer designed course and baronial clubhouse that also accommodates a few well-heeled guests; Glenmore (homes begin in the mid-six figures), whose up and down John LaFoy layout has a few Scottish touches; and Old Trail, whose suburban ethos, as well as a Noah's Ark full of animals, was on display in last year's movie, Evan Almighty, and with homes that begin below $500,000, an owner-designed golf course and town center within walking range of most homes. If three hours from the beach is too far, split the difference and consider Richmond, just 90 minutes from Virginia Beach.
Chapel Hill, NC, is a little over two hours from Wilmington and the beach, and less than that to the foothills of the Blue Ridge Mountains. Chapel Hill is everything we say about Charlottesville (above), and more. The University of North Carolina, Duke and NC State provide a vibrancy, and economic stability, that few other areas in the nation offer, as well as a wide array of adult education courses and part-time job opportunities in the thriving Triangle area. At the high end of the housing market, consider Governor's Club, with 27 holes of Nicklaus Signature golf and an involved membership (homes from around $700,000); Chapel Ridge, popular with families as well as retirees who enjoy the sporty Fred Couples designed course; and the Preserve at Jordan Lake, with a Davis Love layout that remains one of the toughest daily fee golf courses we've played. Like Chapel Ridge, The Preserve features homes in the mid-six figures area, a nice mix of young and old residents, and a lake just outside the gates. Durham, Raleigh, and Greensboro are also options that will put you between mountains and ocean.
Aiken, SC, is about 2 ½ hours from Charleston and Hilton Head, and less than an hour from the mountains of upstate South Carolina. Aiken's major university is a branch of the State U and cannot compare to Charlottesville or Chapel Hill in terms of entertainment and culture options. But if you are looking for a laid-back lifestyle in the biggest horse-oriented area between Kentucky and Florida, Aiken's rolling terrain and reasonably priced homes are worth an exploratory visit, especially if you can score a ticket to the Master's golf tournament (Augusta is just 15 minutes away). Mount Vintage Plantation, which we reviewed here the other day, is at the high end in these parts, with homes set amid pastures and a neat Tom Jackson 27-hole layout, starting in the high mid-six figures. Nearby Woodside Plantation (about the same prices as Mount Vintage) features 54 holes of designer golf; and Cedar Creek Plantation, an everyman's community with an Arthur Hills golf course that is peanuts to join. A more recently opened community, Pine Ridge Plantation, offers lots that begin around $50,000. (Note: the Pine Ridge web site has a "suspended" sign on it; we will try to figure out what that's about in the coming days.)
Interested? If you want more information on these or any other communities in the southern U.S., hit the contact button at the top of the page and we will be happy to offer our thoughts with no obligation or cost to you.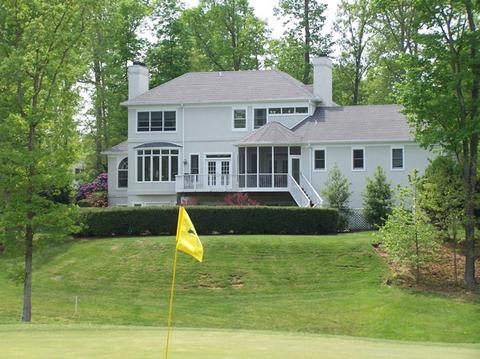 John LaFoy may not be a well-known golf course designer, but those in the field respect his work. At Glenmore, just outside Charlottesville, LaFoy made the most of elevation changes and added a few flourishes of his own, including keeping the course at arm's length from the surrounding homes.