Live like Greg Norman
By all measures, Greg Norman is a successful businessman - a clothing designer, golf course architect, cattle rancher, winemaker and, lest we forget, former PGA tour player. If he gets anywhere near the asking price for his house in Florida, you can add real estate investor to the list.
According to the Wall Street Journal, Norman has listed his house in Jupiter for, gasp, $65 million. The Journal notes that Tiger Woods paid "just" $44.5 million for 12 acres nearby. The Shark's property includes a main house of 8,100 square feet built in 1902, a two-bedroom beachside guesthouse, a three-bedroom carriage house, huge pool, a 17-car garage and other amenities you would expect in a stratospherically priced house.
Just 16 years ago, Norman paid $4.9 for the property and has made some improvements since - but certainly not $60 million worth. With the kind of appreciation he is likely to get from the sale, he shouldn't care that he hasn't won much at competitive golf the last few years.
If the Shark's house is too rich for your taste, a more modestly priced home is available in Osterville, MA, home to the fabulous Oyster Harbors Golf Club, a splendid Donald Ross design I played in September. The waterfront estate on 2 ½ acres has many of the features of Norman's estate, including main and guesthouses, tennis court, pool and dock. The price is a relatively modest $8.9 million.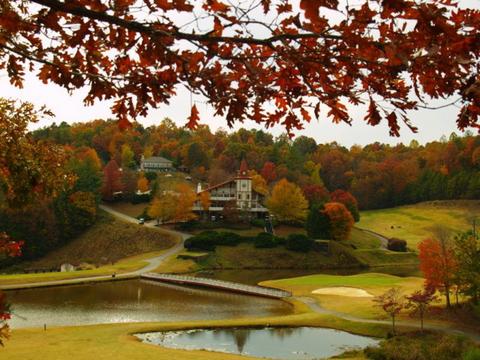 Innsbruck Golf Club & Resort picks up the Alpine gestalt of the rest of Helen, GA
Alpine golf in the U.S.
Many years ago, I happened upon the town of Solvang, CA, "The Danish Capital of America." The town was swarming with tourists who were all too happy to escape the U.S. for a day without the imposition of airfare or the need for a passport. I thought of Solvang today as I read a feature in the
New York Times
about Helen, a northwest Georgia town about 90 minutes from Atlanta that has successfully - if you define success in terms of two millions visitors a year - turned itself into a Bavarian town.
The main attractions in town include Oktoberfest, which lasts for eight weeks in the fall and turns the rural town into one giant beer hall, the mountain landscapes and the reasonably priced real estate. (The only "cons" seem to be traffic, especially during Oktoberfest.) The article includes a photo of a 4-bedroom house in the gated
Innsbruck Golf Resort
priced at just $359,000 and with a view of the 2nd fairway, two large decks and a 7-person hot tub (hubba hubba). Innsbruck is a public course, plays to 6,800 yards and was designed by Bill Watts in 1987. The rating is 72.6 and the slope 132, and judging from the photos on the
Innsbruck web site
, water and trees come into play. Six other 18-hole courses, including one for members only, are within 16 miles, but they may not include 19th holes. The county that surrounds Helen is dry. If you want to stop by for a stein of Warsteiner or Erdinger, there are plenty of reasonably priced rentals in the area for as little as $80 a night.