Some items from newspapers, magazines and web sites that caught my eye recently:

If you read the New York Times on Friday, you might have seen the front-page story in the Escapes section. The lightly researched article "When the Golf Course Isn't Enough " by reporter Sallie Brady tries to make the point that vacation home buyers are moving away from purchasing "cookie-cutter spec homes" in "old style resorts" like those in Myrtle Beach, SC, and moving toward a wider range of accessible amenities. Where's the news here? Golf communities for years have been offering everything from spas to nature trails (including naturalists on staff) to airplane landing strips to wellness centers.
Examples the reporter uses to anoint this as a "trend" are exclusively in high-end communities where prices begin in the millions, the implication being that only the most upscale communities are filling the need. The examples include Carnegie Abbey near Newport, RI, with prices starting at $850,000 for a condo; the Windsor community in Vero Beach, FL, (starting at $1.5 million for a tennis cottage); and Isleworth in Windermere, FL, home to Tiger Woods and Annika Sorenstam, where 4,000 square foot villas start at $2.95 million. Yet there are scores of more modest communities, and especially age-restricted communities, that for years have been supplementing the golf with other amenities. Advice to the Times: One Robb Report in the world is quite enough...
According to the December issue of Money magazine, some housing markets in the U.S. are still "red hot." Representing the southern U.S. are Richmond, VA (prices up 6.9% in the last year), Asheville, NC (+10.9%), Charlotte, NC (+8.6%), Raleigh, NC (+8.6%), Wilmington, NC (+9.1%) and Austin, TX (+10.8%). (I visited Austin recently and will report on the metro area and its golfing
Second home and investor loans could indicate instability in an otherwise hot market
communities in the December issue of the
HomeOnTheCourse Community Guide
.) Keep an eye, though, on the percentage of second-home and investment loans for real estate in any hot area in which you are interested. Money indicates that in San Antonio, for example, where prices have risen 40% in the last five years, more than 25% of loans were for second or investment homes. "[That] suggests instability," said noted housing expert Robert Shiller, and "prices could drop significantly"...
We were north of Atlanta in October, and the serious drought in the area was causing great concern and frayed relationships between the states of Georgia and Florida. Water flow from Lake Lanier, the main water source for Atlanta, also supplies federally protected mussels downstream on the Florida coast. On Friday, the U.S. Army Corps of Engineers cut the water flow from Lake Lanier by 5% after the U.S. Fish and Wildlife Service said the mussels could survive with less water. The Corps has indicated the reductions could drop as much as 17% without harm to the mussels. Of course, no one has bothered to ask the mussels...
The passive voice is a protected species in golf community advertising. In the passive voice, stuff happens but you never know who is responsible for the action (as opposed to the active voice, where the subject is, well, active). Spring Island, for example, a nice upscale community in South Carolina, touts its golf this way: "Our golf course is considered Arnold Palmer's finest..." That, of course, begs the question, "Considered by whom?" The aforementioned Mr. Woods and Ms. Sorenstam might disagree with Spring Island's un-attributed assessment since their course at Isleworth is an Arnold Palmer design. The passive voice robs you and I of the ability to separate fact from ad copy. Give us the names of those who think Spring Island the "finest"; we'd like to ask them how many other of The King's courses they've played...
And, finally, in the Hype a 59-Year Old Web Site Editor Can Certainly Live With category, an ad for Colonial Heritage, an age-restricted community in Williamsburg, VA, extends invitations to "active adults 55 and better."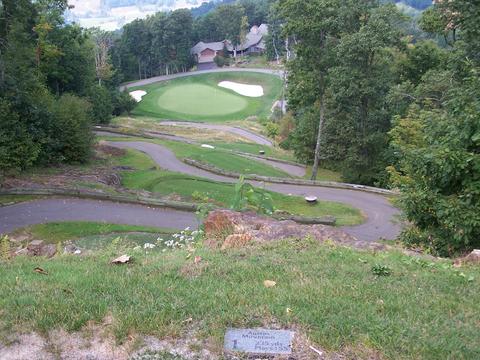 Asheville remains one of the hot real estate markets, and Mountain Air, a half hour outside of town, offers an amenities loaded community, including a mountaintop airstrip.