It may seem counterintuitive, but the coronavirus is about to have some positive effects on real estate sales in Southeast golf communities. There are a few reasons for this, which I explore in my upcoming June newsletter, Home On The Course. (It's free; subscribe here.)
Here is the Cliff Notes version of this month's main feature: Baby Boomers put their searches on hold for the virus, and the pent-up demand is causing them to restart their searches now…Employees, for the most part, like the flexibility of working from home and the savings from not having to commute or buy work clothes. More importantly, their employers are finding they are saving tons of money on office space and utility costs and, surprise, employees are more productive at home. If they can work from home, why not from a home in a warm climate, low-cost-of-living area of the Southeast?…Also, city dwellers fearing a restart of Covid-19 as well as future pandemics are heading for the hills, literally and figuratively. There are many "hills" in the Southeast.
All this plus the mistaken notion that hot weather kills viruses – a wives' tale, according to scientific evidence – mean more people heading South. But here's the problem that awaits them: Inventories of homes for sale in many popular areas of the Southeast are well below what the real estate industry considers "in balance" -- six months. What happens when increasing demand meets limited supply? Of course, higher prices.
I offer additional observations about Covid-19 and golf community real estate in the June issue of Home On The Course, coming later this week. Sign up for free here.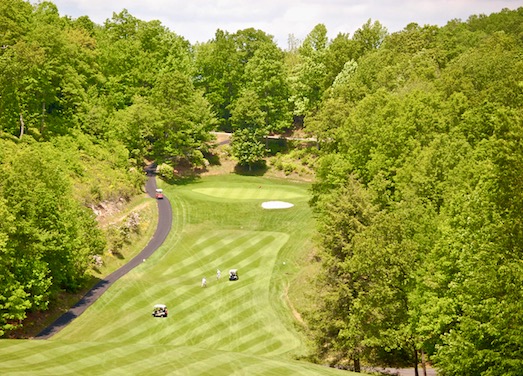 Inventories of homes for sale in the Brevard, NC, area are down 32% from this time a year ago. Shown is the 11th hole in the nearby mountain golf community of Connestee Falls.