For the price of an iTunes song, a ballpoint pen or a pound of chicken thighs, you can own a beautiful ½ acre lot in an upscale golf community in the Low Country of South Carolina.
        In doing research for a recent article here on building a golf community home (click here to read), we noted that some home sites in such top golf communities as Belfair, Berkeley Hall and Colleton River, all in Bluffton, SC, are still priced at $1. We say "still" because this phenomenon started at the dawn of the recession roughly in 2008 after previously optimistic owners of homes in these golf communities purchased lots thinking they would appreciate in value as rapidly as they had through the early '00s. Many plunked down six-figures for a lot you can purchase today for as much as $300,000 less. The problem was that golf membership in these excellent clubs –- each with a minimum of 36 holes, and designed by the likes of Fazio, Nicklaus and Dye -– was and still is mandatory, obligating the owner of each lot to pay more than $15,000 in association and club fees. Some of the bullish owners had purchased multiple lots in the Bluffton golf communities, as well as in the Haig Point golf community on Daufuskie Island.
        "Owner of this home site now owns a home in Colleton River and does not need two memberships," says one ad for a lot in nearby Belfair Plantation. "Thus he has priced for a quick sale." His sale price is $2.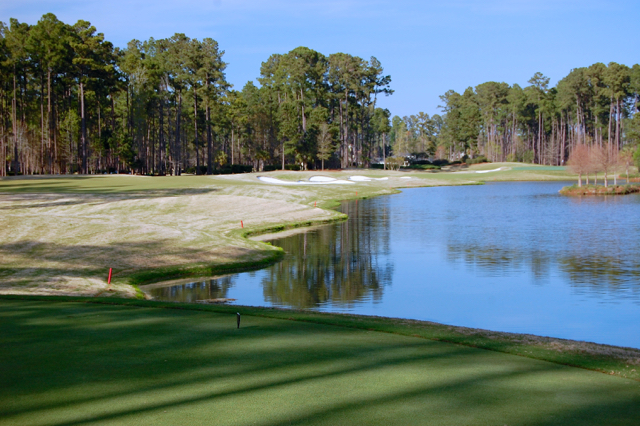 With two Tom Fazio golf courses and its Low Country location, Berkeley Hall Plantation has plenty of water and fairways to go around. A few lots selling for $1 afford views of water or golf course. The same is true at other top golf communities, including Belfair, Colleton River and Haig Point on Daufuskie Island.
        You might think that lots priced at half that are the worst available in each community; but most are actually choice, with water or golf views and, in a couple of instances, a combination of the two.
        "Magnificent long lagoon to green view of the 2nd hole of the Jack Nicklaus Course in Colleton River!" touts one ad for a $1 lot. "This home site...is located within a short distance of the Nicklaus Clubhouse, Bruce Boland Par Three Course, Fitness & Spa, Tennis Center and Aquatic Center."
        "DOMINATING VIEW OF 17TH GREEN . . . on North Course" reads another ad, for a $1 lot in Berkeley Hall. "No one will ever build across street, no houses will ever be in view -- wonderful privacy for your dream home with screened lanai. Short walk down to 35,000 sq. ft. Clubhouse and staffed state-of-the-art Spa & Fitness Center."
        We counted more than a dozen $1 lots for sale in these fine golf communities, but there are many more that we would put in the "bargain" classification. Count on construction costs in the Bluffton area to run between $140 and $200 per square foot, with the higher price for more upscale cabinets, appliances, flooring and other flourishes. Doing a bit of basic math, the cost to build a nice 2,500 square foot home in one of these high-end communities would run to $350,000 and up -– oh yes, plus $1 for the land.
        The carrying costs in these communities skew a little higher than other comparable golf communities in the Southeast, but we figure you get about 10 years worth of savings with a bargain lot. (i.e. Comparable lots priced at $150K elsewhere divided by $15,000 annual costs equals about 10 years.)
        If you would like more information or to make a visit to Bluffton, please contact me and I will put you in touch with our expert Realtor in the area. His commission on the sale will be about 3 cents, and my referral fee will be less than a penny but, hey, if you're happy, we're happy.