Links at Stoney Point, Greenwood, SC
I've spent a few days in the modest sized town of Greenwood the last two years, and it is large enough to provide a full complement of services and entertainment options. I was impressed with the golf course at Stoney Point when I played it a few months ago. The club is owned by a couple who live in the community and are intent on making it the social and recreational center of the area. From the condition of the golf course and the well-appointed clubhouse, they are well on their way. Because the community is still developing, prices for homes here are comparably lower than for similar homes in other areas. I noted one listing for a three-bedroom home under $200,000, with views of both the golf course and Lake Greenwood. Our Realtor in Greenwood would be happy to provide more information; please contact me and I will put you in touch.
Wachesaw East, Murrells Inlet, SC
If your definition of "inland" is a couple of miles from the ocean, then this community just to the west of Highway 17 south of Myrtle Beach offers most conveniences, as well as a golf course good enough to have hosted a women's pro golf tour event. Virtually all shopping, entertainment and restaurant options are within a 10-minute drive, and the beach at nearby Huntington State Park is one of the widest and cleanest on the Carolina coast. For those who find it comforting to have a hospital nearby, the entrance to Wachesaw East is actually through the local hospital's parking lot. Golf in the area is plentiful, and you can play a different course every day for two weeks without driving more than 15 or 20 minutes. Wachesaw East, which features a mix of condos and single-family homes, meets the $200,000 barrier with a number of properties. Note that there are other, similarly appointed golf communities in the south of Myrtle Beach area – among them River Club and Litchfield Country Club -- where you will find homes in the $200,000 category. Contact me or fill out our Golf Home Questionnaire (click here) if you would like more information.
The 13th on the private Linkside 18 at Pebble Creek features a sharp dogleg left around a menacing pond.
Pebble Creek, Taylors, SC
I played one of the two Tom Jackson designed Pebble Creek golf courses with veteran golf industry maven and club owner Lin Young. (Jackson lives in Pebble Creek.) Young runs a tight ship and has found a unique formula in maintaining one public and one private golf club (the private golf club charges minimal fees). The surrounding community has a mix of homes, from condos to estate homes, but there seem to be plenty of choices under the $200,000 limit. Nearby Greenville is one of our favorite southern towns, with a lively entertainment district and fine restaurants. Furman University could have the prettiest campus in America; and its redesigned classic golf course is not bad either.
Cobblestone Park, Blythewood, SC
This community got off to a bit of a rocky start 10 years ago, but the national builder D.R. Horton purchased most of the developer lots two years ago and is building and selling homes here at a rapid pace. This was originally supposed to be an "upscale" community of nearly $1 million homes, courtesy of developer Bobby Ginn. Ginn is gone, but a fine 27-hole golf course remains, and the amenities, especially the fitness center, are world class. Horton has announced that the long-awaited clubhouse will open in a matter of months. Early investors lost their shirts, but folks moving in now could see significant appreciation from the stunningly low prices for homes, beginning just a tick above $200,000. Blythewood is just 20 minutes from the state capital of Columbia, which offers all the services you would expect in a seat of government. A few other more established golf communities in the area can satisfy the $200,000 limit as well. If you'd like our man in Columbia to provide more information, please contact me.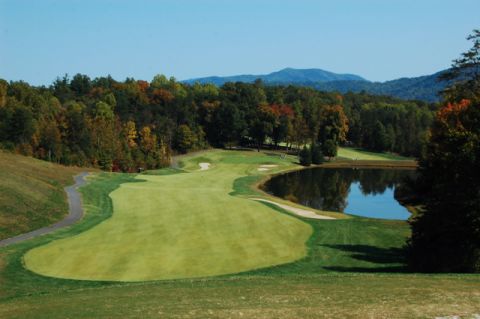 The 27-hole Rees Jones layout at the base of the mountain at the Wintergreen Resort is open year round, and on some January days, you could catch a run on the mountaintop ski slopes and then 9 holes in the afternoon. From spring to fall, Ellis Maples' Devil's Knob course beside the ski slopes rounds out Wintergreen's excellent golf portfolio.
Wintergreen Resort, Nellysford, VA
If you are both golfer and skier, Wintergreen would make a perfect year round home for you. The quality of the Ellis Maples and Rees Jones golf courses, 45 holes in all, were never in question, but the community's financial viability was, until Jim Justice, the billionaire who saved and remade the famed Greenbrier resort, bought Wintergreen and immediately pumped in mega-bucks for infrastructure improvements. Now the future in the Blue Ridge Mountain community is bright, the mountaintop 18 holes are going private in 2014, and property prices should start to inch up. In the meantime, we note a few single-family homes sub-$200,000 but, in truth, they are more like cabins than homes. For about $50,000 more, the selection increases dramatically. Contact me for more information and a referral to our experienced professional agent and resident at Wintergreen.
Savannah Quarters, Pooler, GA
Notched into a triangle formed by two interstates near Savannah, GA, Savannah Quarters got off to a bumpy start under Greg Norman's Medalist land development company. I played the redone golf course six years ago when only nine holes were open and thought it had strong potential. Only a relatively few completed homes dotted the community, but today Savannah Quarters has been smartly organized into distinct neighborhoods, two of which feature single-family homes starting under $200,000. If you want the convenience of being close to a major city – Savannah is just 10 minutes down the interstate – and a lot of new house for the money, Savannah Quarters is worth a look. Contact me for an introduction or more information.
If you are looking for a golf home in any price range, I invite you to fill out our online confidential Golf Home Questionnaire. Once you submit your requirements for a golf home, I will get back to you with some initial thoughts about which golf communities seem to match up the best. After that, we can refine the search and look to develop an itinerary of visits to those golf communities that seem best suited to your criteria. Click here for the Golf Home Questionnaire.