Children change everything. For a couple whose working lives were pointed eventually toward a year-round home on a golf course in a warm weather climate, their mindset can change when their children have children of their own. For golfing grandparents in the population dense areas of the northeast, there are some fine options, especially for those who both ski and play golf, to live at least part of the year near family and friends. Consider some of the major ski areas of Vermont, like Stowe, Killington, and Sugarbush, all with golf courses of their own to fill their ski lodges in summertime. But there are viable options even closer to New York City and Philadelphia, for example, one not much more than an hour away from the Big Apple. We recently visited that golf community, the Crystal Springs Resort in northwestern New Jersey, where golf and -– Attention Oenophiles! –- wine share the spotlight.
        Crystal Springs is just 47 miles from New York City, which makes it within a fairly easy drive from not only the suburbs ringing the city but also from Philadelphia and Boston. Real estate in the resort community struck me as reasonably priced, probably because property taxes are relatively high, about $2,200 per $100,000 of valuation. Golf club members share the seven layouts and most of the other facilities with vacationers, although a part of the main clubhouse is carved out for members only. For those who choose to live at Crystal Springs year round and enjoy winter sports, a ski area is a few minutes from most homes and included in one of the club's various membership packages.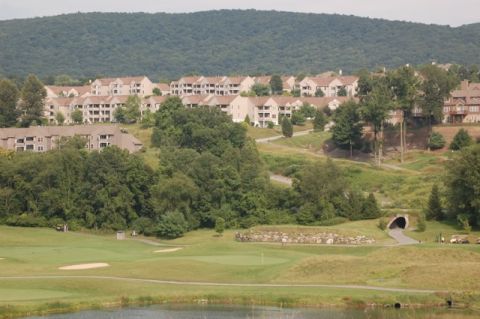 Most of the homes at Crystal Springs have golf course and/or mountain views.
The builder is the developer
        Crystal Springs is huge if you total up all the parcels of land owned by Crystal Springs Builders, which purchased the land and facilities after the original owners suffered financial difficulties in the 90s. Over time, Crystal Springs Builders added many more surrounding acres; today, the resort's property extends about six miles at its longest part.
        Since Crystal Springs Builders is, as the name suggests, primarily a homebuilder, they do all the single-family house construction on the property from 13 pre-drawn designs, a practice that keeps building costs down but adds enough diversity of architecture to give each neighborhood a custom look. The condos and villa neighborhoods are similarly diverse, with some buildings comprising just a couple of units and others rising to mid-size in order to maximize mountain and golf course views. (Note: The vast majority of built homes of all types have at least some views of the golf courses at Crystal Springs.)
        I'm always a little confused about the differences between a town home, villa and condominium. At least the town homes at Crystal Springs are clearly defined as "single-family attached" units where the owners of these attractive spaces overlooking the Cascades golf course have just one contiguous neighbor. The developer is currently building 22 of these units at prices between $309,000 and $449,000, depending on size -– they range from 1,600 square feet to 2,500 square feet. The best views at Crystal Springs, which means mountains and/or golf course, command slightly higher prices. Single-family homes on roughly 1/3-acre lots at Crystal Springs are priced in the high $300s to over $600,000. Few of the homes in the community are well back from the edges of the golf courses; most ringing the Wild Turkey golf course I played sit on high ridges and look straight down on the fairways (and a few ponds).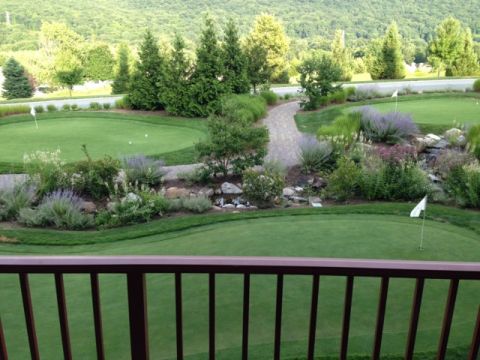 Some of the balconies at the Lodge at Crystal Springs look down on a series of practice putting greens.
Living lodge
        I stayed for one night in the Grand Cascades Lodge, the center point of the community and viewable from many points on the golf courses. The one-bedroom apartment -- it included a full kitchen, living room, and large bathroom with whirlpool tub and stall shower -- featured a balcony that hung above a series of five small, beautifully manicured putting greens of varying shapes, well-utilized, I noticed, by those guests who had rented rooms in the Lodge. These apartments in the Lodge sell for between $225,000 (one bedroom) and $350,000 (two bedrooms) and can be rented out by the developer in behalf of their owners. The management fee is pretty stiff –- 50% of the rental income –- but the developer takes care of all maintenance, marketing and preparation for guests, and Crystal Springs has two high seasons for both golf and skiing. Although Crystal Springs won't divulge the average number of weeks most units are rented out, they will say they maintain an average 60% occupancy year-round in the Lodge. Only March and November are considered slow months at the Resort –- and the joint was jumping when I was there midweek in late July.
        One especially nice feature is that every home in Crystal Springs includes exterior maintenance; you can be out on the links or on the ski slopes while someone else is mowing your lawn or plowing the snow from your driveway. This is of special benefit to homeowners who live at Crystal Springs part-time; they never need to worry about whether the grounds are being tended. Homeowner association fees run generally between $200 and $300 per month, depending on what type of home you own. (The lack of a guarded gate at Crystal Springs, which would hardly seem necessary in such a remote part of New Jersey, helps keep the fees down.) For a condo in the Ferndown section of the resort and overlooking the Cascades golf course, monthly maintenance is $222. For single-family homes in the community, the fees are just $275 per month.
Ideal second-home potential
        Couples looking for a laid-back lifestyle in a golf community may find Crystal Springs a little too active, typical of resort communities with activities like golf and skiing that cover almost the entire calendar year. The crowd of tourists staying in the gargantuan main lodge while I was at Crystal Springs was a rather eclectic group that included buddy golfers, honeymooning couples, families with young children and corporate managers attending meetings and retreats (work in the morning in one of the lodge's many meeting rooms, play in the afternoon on one of the courses, and some cheerful camaraderie in the lodge's tavern in the evening). Crystal Springs would make an ideal second-home location for couples whose primary homes are behind the gates of a private southern golf community but want to spend selected months near children and grandchildren who live in the North. They could also score major points with the grandkids who come to visit since Crystal Springs offers the number of diversions to keep even the most active child engaged.
Next: World-class golf, world-renowned wines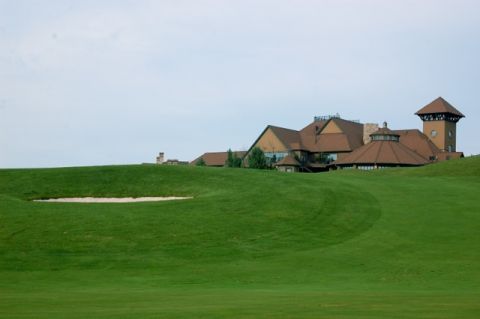 The Lodge at Crystal Springs dominates the scene, including behind the 18th green on the Wild Turkey golf course.