Colleton River Golf Club's Pete Dye course, as seen from one of the community's two clubhouses. The other is at the head of Colleton's Jack Nicklaus course.

One mid afternoon during my stay in the Bluffton, SC area a week ago, I made the mistake of trying to cross Highway 278, which runs from Interstate 95 to Hilton Head Island. I and two others in front of me waited a good six minutes to make the turn, such was the traffic going to and from the popular island. A few times during my week in the Bluffton/Beaufort area, people I played golf with said they had looked at Hilton Head but chose to live 20 to 30 minutes away, because of the traffic. Of Hilton Head, to quote my favorite philosopher, Yogi Berra, it seems as if "No one goes there anymore. It's too crowded."
There are plenty of nice golf communities just off the island in Bluffton, and I explored four of them during the week, and played golf at two. Here are some quick impressions of the two whose courses I did not play, Moss Creek and Colleton River.
Moss Creek is one of the mature golf communities in the area, having
Mandatory golf membership for residents keeps income stable at the higher end clubs in Bluffton; initiation fees are baked into the prices of all resale homes and, therefore, are negotiable.
opened just off Hilton Head during the island's heyday of development nearly 40 years ago. I played one of the two Fazio golf courses (one by Tom, one by George) in the early 1980s and remember a layout that was difficult, with a number of forced carries over hazards (I think it was the Tom layout, but memories fade after a certain age). I do remember mashing my glasses against my face and drawing blood when a small frog jumped out of a tree and landed on my head, but I don't hold that against Moss Creek. I also recall that Moss Creek hosted an LPGA tournament back in the 1970s and '80s.
The community seems to have stood the test of time, its three-decade-old homes either already refurbished or in need of just modest facelifts. For that reason, price points for real estate in the community are a little lower than similar square footage in Colleton River, Belfair and Berkeley Hall. Single-family homes in Moss Creek, of which there are 65 currently on the market, range from $200,000 to $1.2 million, with the "sweet spot" around $700,000. A half dozen lots that are on the market range in price from $108,000 to $399,000. Because of the community's age, you will find more foreclosures and short sales in Moss Creek than the others. Moss Creek's proximity to Hilton Head makes it closest to beaches among the off-island communities, and for shopaholics, the large Tanger Outlet Center just outside Moss Creek's gate will provide non-golf diversion. Current dues in the community run $3,972 annually for the club and property association fees; lot owners pay a little less.
Note that all four communities I visited in Bluffton required all residents who built a home to pay a club initiation fee. When the homes are resold, the fee is passed along in the sale. Although fees of $20,000 and higher -- in some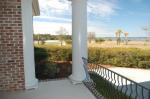 cases, considerably higher - may have seemed a burden to some early purchasers, the policy makes for stable memberships, a constant revenue source (through dues) and no need to spend excessive advertising and marketing dollars to keep the membership rolls propped up. Membership does not fluctuate because the memberships are tied to the homes, not individuals. For this reason, all courses I saw were in peak condition. For those looking for a home in such a golf community, the club initiation fee, as well as the price of the home, is inherently negotiable.
The long drive into Colleton River is impressive, a two-mile ride through forests of live oaks that provides residents with a feeling apart -- and a drive of almost 15 minutes to the nearest supermarket. Developed in 1990, Colleton River features two 18-hole courses, one by Jack Nicklaus and one by Pete Dye and served as a location for the critically panned but atmospheric golf movie,
The Legend of Bagger Vance
(Matt Damon starred). Each course has its own clubhouse; one membership buys access to both courses and clubhouses. My local real estate contact and tour guide of the communities, Erin Yocco, told me the prices of home sites in Colleton have not fallen quite as hard as at other local golf communities; the current 81 listings start at $75,000 and top out at $2.4 million for a splendid marsh view. The 52 homes on the market are priced from $599,000 to $3.85 million. Erin took me through a 4,500 square foot home with a pool and view of the Nicklaus golf course and huge rooms inside. It is listed at $1.19 million, certainly a lot of money but also a lot of house for the price. Down the street, the good-sized Nicklaus Golf Cottages (they are near the course) sell for around $900,000 but generate about $100,000 in rental income annually, according to Erin.
Annual dues for both the upkeep of the community and the golf club track
With Fazio designs dominating most of the private community courses, Colleton's Dye and Nicklaus layouts are a lure to those with variety in mind.
with the up-market prices of homes at Colleton River. Including current assessments, annual dues run about $17,000, the most of any of the Bluffton communities I visited and almost $13,000 more than at Moss Creek. However, Colleton's well-regarded Dye and Nicklaus designs provide more variety than do the layouts at Moss Creek, Belfair and Berkeley Hall, all Fazio designs -- five by Tom and one by George. To serious, well-heeled golfers, the differences in the designs will justify the differences in the price tags.
I'll review the two other communities I visited in Bluffton -- Belfair and Berkeley Hall -- in the next day or two. In the meantime, if you would like more information on the wide range of golf community choices in the Bluffton area,
let me know
and I will put you in touch with Erin Yocco.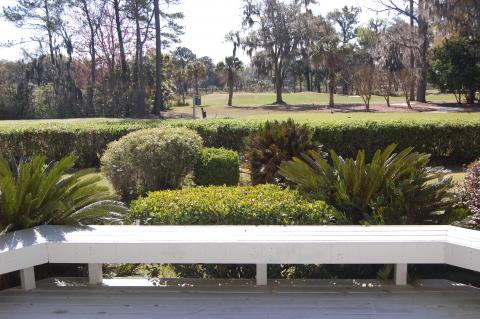 The view from a currently available home at Moss Creek, a nearly 40-year old community in Bluffton with some of the most reasonably priced real estate.