This is the second of a three-part wrap up of golf courses and communities visited in 2011.  Links to original reviews are provided.  If you would like to visit any of the golf communities mentioned, please contact the editor and we will be happy to arrange it.
        In June, I played golf near my home in Connecticut.  One highlight was a charity event played at Shuttle Meadow, a Willie Park Jr layout first opened in 1916, another of the courses from a bygone era whose distance (6,250 yards from the tips) belies the angles into greens that one must set up in order to score well.  Park, who designed courses worldwide, may be best known for the Gullane and Gailles golf courses in Scotland and Olympia Fields outside Chicago.
        A family vacation in Rehoboth beach in July put us within short driving distance of interesting but dissimilar public layouts inside golf communities.  In his review of the Jack Nicklaus designed Bayside Resort near Ocean City, MD, Tim Gavrich wrote that the golf course "is certainly not a place where a beginner will enjoy learning the game."  At 7,500 yards from the tips, and with Nicklaus' typical hard spots, Bayside is anything but a typical resort course. Baywood Greens wasn't a walk in the park either, but it looked like a park –- one with a profusion of flowers. Indeed, the Bill Love design seems almost secondary to the 200,000 plants and flowers a zealous owner commanded.  Even on the gimmicky par 14th, with two separate water-edged fairways, the flowers that engulf the cart bridge are almost enough to make you forget about the contrived layout.  Owners of the $200s+ homes adjoining the course can't escape the floral views, and why would they want to?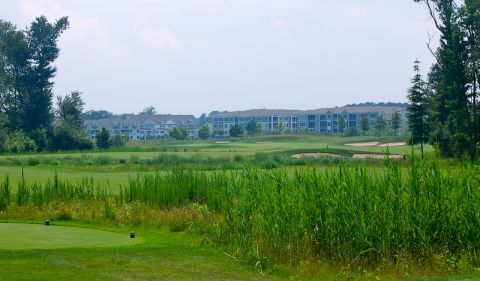 Occasionally, the vistas at Jack Nicklaus' Bayside Resort layout in Maryland are interrupted by condos.
        August began with a meet up with my friend Bob for a round at Pinecrest Golf Club in Lumberton, NC, a golf course whose one nine dates to the early 20th Century and whose greens were attributed to Donald Ross circa 1940 but whose history and layout imply it's not pure Ross.  Dick Wilson was hired a couple of decades after Ross' work and asked to harmonize the two nines, giving the course a somewhat patchwork feel.  A few holes were interesting but, for the most part, the layout was straightforward and the putting greens in the heat of the summer were too slow to appreciate. (Mr. Ross would not be happy.)  That night we stayed on site at the Country Club of South Carolina, in Florence and then played the course the following day.   On perhaps the hottest day of the summer, with the thermometer over 100, we had the course to ourselves.  In heat like that, every distant green seemed like an oasis, and the libation in the club's modest bar and grill was like nectar of the gods.  The course wasn't bad either, but the highlight of the stay was a huge three-bedroom condo we stayed in; one just like it down the block was listed for $225,000, which seemed like an extreme bargain (especially if the air conditioning worked).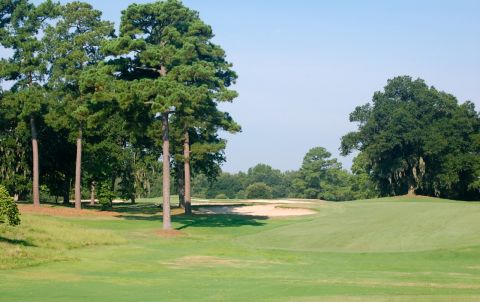 Despite temperatures over 100 degrees, my playing partner and I could still appreciate the go and no-go options of a 316 yard par 4 at Country Club of South Carolina in Florence.  No-go will almost certainly yield a conservative par; go will yield something else.
        A few days later I made a revisit to Haig Point for a South Carolina Golf Rating Panel outing on 18 of Rees Jones' 29 holes on Daufuskie Island, SC.  (No typo there: The club members commissioned two extra holes to take advantage of some scenic and challenging routings over marsh.)  I had played Haig years earlier, before an impressive renovation that now makes the course play more like a famous layout across the Calibogue Sound, Harbour Town.  You won't find many more courses that put sprawling live oak trees to better advantage as backdrop and, occasionally, living hazards.  Invest the time to take the ferry over to Daufuskie, the only way you can get there short of a helicopter, and check out the environmentally pure and socially engaged community there.  (I would be happy to make arrangements for you to visit the private community and golf course.)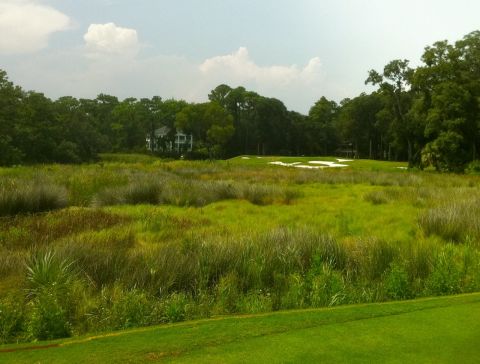 The marsh comes into play often at Rees Jones' Haig Point.
        The South Carolina Golf Rating Panel, which holds a handful of outings for its members each year, moved back to the mainland and Callawassie Country Club the following day.  Callawassie, though an island, does not require a ferry to reach it.  The golf community is near Okatie, about midway between Hilton Head and Beaufort, and it too had undergone a renovation of its Tom Fazio 27-hole layout.  The golf course may not have the drama of Haig Point, but its marshy spots provide plenty of challenges and visual delights.  And its community is tight knit and its residents involved with the life of the golf club.
Next: Classic end to the year