The McConnell Golf Group, the Raleigh-based firm that has built quickly a portfolio of some of the best private golf courses in the Carolinas, is having its PGA tour debut this weekend. The purchase of the famous Sedgefield Golf Club in Greensboro brought with it the hosting duties for the Wyndham Championship, which is played annually at the Donald Ross course.
        As I write this, Webb Simpson, in search of his first PGA tour victory, leads the golf tournament by a stroke early in the final round. In preparation for the event, McConnell spruced up the grounds, the clubhouse and an
McConnell completed the purchase of its eighth course, TPC Wakefield, earlier this month.
adjacent rusty water tower, which now has a fresh coat of paint. Putting its best foot forward on national TV is important to McConnell Golf's efforts to build its membership rolls; the firm hasn't spent much money promoting its golf memberships, concentrating its resources instead on taking good golf clubs and courses and buffing them up to the excellent category.
        As we have written here a number of times, a McConnell membership –- they start anywhere from $10,000 to $26,000, depending on which "home" course the member chooses –- provides access to all eight McConnell courses. Currently, the McConnell golf clubs farthest from each other are Sedgefield and The Reserve at Litchfield Beach, on the south end of the Grand Strand of Myrtle Beach, about a four-hour drive between the two. McConnell Group members have access not only to the eight golf courses but also to lodging facilities at a few of the courses. That makes playing the more remote clubs like Musgrove Mill in rural South Carolina and Old North State Club on Badin Lake, NC, a bit more convenient; I stayed overnight at Old North State and the accommodations were comfortable and reasonably priced.)
        Earlier this month, McConnell added its eighth golf club, Raleigh's TPC Wakefield, and with it yet another pro event, the Nationwide Tour's REX Hospital Open which is played in June. By purchasing a course designed by Hale Irwin, McConnell also added to its diverse stable of designers that includes Pete Dye (The Cardinal), Tom Fazio (Old North State and Treyburn), Greg Norman (The Reserve), Arnold Palmer (Musgrove Mill) and Donald Ross (Sedgefield and Raleigh Country Club). When I spoke with McConnell officials a couple of years ago, they hinted at an ultimate goal of nine clubs. Could an Arthur Hills or Coore/Crenshaw course be in McConnell's future?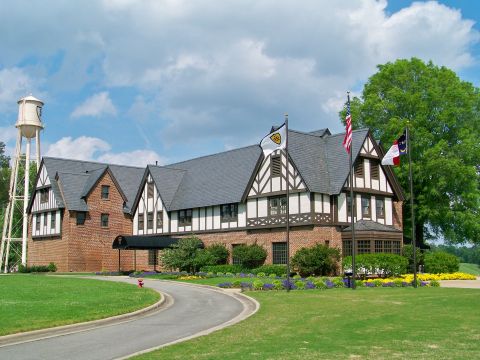 Sedgefield's clubhouse and water tower received a sprucing up in advance of the Wyndham Championship.
Photo by Tim Gavrich