A
ccording to a recent study, Durham, NC, Huntsville, AL, Knoxville, TN, and Winston-Salem, NC, are among the 10 best markets in which to invest in residential real estate.
        Local Market Monitor, a Cary, NC, firm that supplies data and trend information for investors, builders and lenders, looks at the key factors that influence housing values and trends, including population, incomes and job growth, according to an article in today's Wall Street Journal.  Based on its latest analysis, Local Market Monitor developed a list of the best and worst markets in which to invest in residential real estate.  All but one of the 20 best and worst markets lie across the southern half of the nation, as detailed on a map in the WSJ.  Not surprisingly, given the stunning drops in real estate in Nevada, Reno and Las Vegas rank as the riskiest in the nation, respectively.  Indianapolis (3rd best) is the only top 10 market north of the Mason-Dixon Line.
The Bright's Creek golf community and its sleek Tom Fazio course is within an hour of stable market Greenville.  The community's clubhouse has nicely appointed guest quarters for visiting friends or couples shopping for a home in the community.
        Six of the 10 worst markets are in Florida, and include Orlando (3rd worst), Lakeland/Winter Haven (#4), Daytona Beach (#7), Sarasota (#8), Naples (#9) and Fort Myers (#10).  The WSJ also reports in its article that Local Market Monitor identified five markets as "speculative areas" which may have bottomed out and could appreciate 3% to 5% annually, but also have the potential to drop further.  These include Jacksonville and Port St. Lucie in Florida and Myrtle Beach, SC.
        Greenville, SC, which we have commented upon favorably in this space, makes the "best of" list at #9.  With a stable economic base, led by the nearby BMW of North America operations in Spartanburg, and a growing entertainment district along the river that flows through downtown, Greenville appears to embody the notion of stability.  Golf community options within a half hour of the city include a couple of the Cliffs Communities, The Thornblade Club in Greer (private Tom Fazio golf course in the middle of a nice neighborhood), Greenville Country Club (two well-regarded private 18 hole courses), and the Carolina Country Club in Spartanburg.
        A little further afield, but within an hour's drive of Greenville, are The Cliffs Communities that surround Lake Keowee, The Reserve at Lake Keowee, Bright's Creek in Mill Spring, NC, and White Oak, located in Tryon, NC, a new golf community that is home to pro golfer Padraig Harrington.  The nine-holes I played at White Oak earlier this year were outstanding.
The nine holes at White Oak, within an hour of Greenville, were among the best I have played in recent years.  An additional nine are slated to open in the coming months.
        Golf community choices in best-market Durham include Treyburn, whose golf course is owned by the McConnell Group.  When you purchase a golf membership at the private Treyburn, you gain privileges to play at the equally private Raleigh Country Club and Cardinal Golf Club, within a half hour drive, as well as McConnell's other three courses in the Carolinas.  Rumors are rife that McConnell is negotiating to buy the Sedgefield Golf Club, site of this weekend's PGA tour event in nearby Greensboro.
        As always, if you would like more information on these or any other golf-rich areas, please contact me.  I am happy to help.  (Note:  Individual market reports from Local Market Monitor are $99 each.)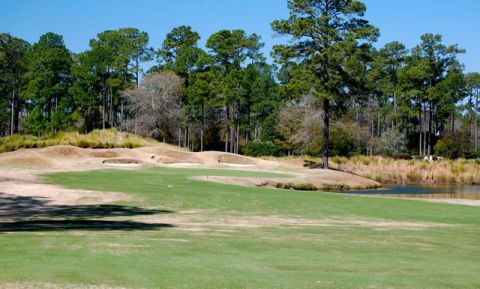 Wachesaw Plantation is one of only three strictly private clubs along the Grand Strand of Myrtle Beach, which is considered a "speculative market" by Local Market Monitor.  The club is located south of Myrtle Beach in Murrell's Inlet.