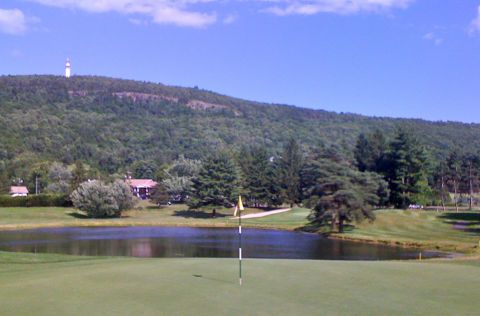 The Heublein Tower stands guard over Tower Ridge Country Club.
        Tower Ridge in Simsbury, CT, is one of those country clubs whose best days are behind it, a former private club whose quirky but always smartly conditioned Geoffrey Cornish layout attracted a small but fiercely dedicated group of members.  But faced with a declining economy and too much local competition from other private clubs, as well as the threat that half its 18 holes would be closed and turned over to a new housing development, Tower Ridge could not staunch the outflow of members.  As so many other clubs have done to survive, the club opened its course to outside play a few years ago.
        My son and I have played Tower Ridge many times, as both a private and public golf course, and a return the other day was both nostalgic and heartening.  The course was not crowded on a Monday afternoon, but there was enough traffic to give a positive little jolt to those pulling for the course's survival (and a number of people showed up after work, as we were leaving).
        Conditions had not slackened because of the economy and budget cuts; indeed, the greens were in mostly mid-season form, although they could stand a slightly tighter cut.  The vistas from the top of the course out to the Farmington Valley are as we remembered them, a panorama of green interrupted only by the occasional white church steeple and a few other landmarks.
        The Heublein Tower, a symbol of solidity, stands sentinel above the course.  It was built by the founder of the alcoholic beverage company and, of course, gives the golf course its name.  We only hope the Tower gives the golf course some of its stability as well.