It isn't every day you get to see a hole in one. That was just part of my interesting day on Friday at Fox Hopyard, an upscale daily fee course in a beautiful part of Connecticut that, nevertheless, does not seem as if it would be hospitable for golf (tough to drive to, rocky landscape). Sandy Marcks, who manages the facility with her husband, Richard, lofted a perfect pitching wedge shot on the par 3 8th hole that landed 10 feet short of the cup and dropped into the front as if it had been a two-foot putt. It was her first hole in one, and I felt like a rabbit's foot, since I had not met her until that day.
Richard and Sandy were great hosts for my son, Tim, and me. Richard is one of those lifetime golf industry guys who has made a point of learning every aspect of the business, from the bottom up, literally. He started in the business fixing golf course equipment. He also knows as much about grass as anyone I have met, which is not surprising once you learn he has both studied turf science and taught it to aspiring course superintendents. He has designed and built machines that take care of golf course maintenance work. A residential architect as well, Richard worked with Robert Trent Jones, Sr.'s design firm and later with former Jones protégé Roger Rulewich. Rulewich designed the three courses that make up the Fox Group (the others are Crumpin Fox in rural Massachusetts and Fox Hollow near Tampa, FL).
The short par 4 7th hole at Fox Hopyard requires a deftly placed drive between water on one side and marsh on the other. A fairway wood or hybrid off the tee should leave no more than a 9 iron to the hole -- for the second or third shot!
Today, Richard and Sandy, whose background in marketing and graphic design is a complement to Richard's own operational experience, are a visible presence at Fox Hopyard. Richard maintains full management authority for all the courses in behalf of the Sandri Companies, whose eclectic holdings include oil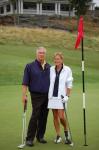 distributorships and manufacturing companies, in addition to the three golf courses. Richard and Sandy run Fox Hopyard like a well-oiled service business fully focused on the customer. For anyone doubting that the customer is king at Fox Hopyard, consider a story from a friend of mine who, upon hearing I had played the course, told me about his experience at the Hopyard a few years earlier, when he arranged a golf outing there for eight family members.
"We were a few minutes from teeing off," he told me, "and this foursome arrives with their shirts hanging out, yelling as if they were at a Yankees/Red Sox game and possibly showing the effects of a few early morning drinks." My friend recalls his anxiety at the possibility the loud group might be playing in front of him, his dad, brothers and cousins. Fox Hopyard's pro came out to speak with the loud group, was not satisfied they would behave themselves, and asked them to leave.
"He [the pro] came over to me," said my friend added, "and, with a wink, said, 'Nothing to worry about.' I hadn't complained but he somehow knew I was nervous about it."
Fox Hopyard, which has 200 members, aspires to offer the high level service of a private club. From my experience, it succeeds. I will publish a full review of the course here in the next few days, including some notes about real estate opportunities amidst the adjacent trees.
[Editor's note: As always, I paid for our green fees at Fox Hopyard to maintain both my objectivity and the perception of it.]