I met up with my friend Bob this week at the Crail Golfing Society for a round on the famed Balcomie Links, although not quite as famous as Carnoustie, which Bob, who lives in North Carolina, and his friend Bill played the day before. During our walk on Balcomie, Bob told me that his wife Leonne had started a regimen of walking after not feeling too chipper for a few months. She met a man on the trail who told her he had thrown away all his pills after starting a routine of 10-mile walks every day. That's quite a commitment if you figure a brisk walk is at five miles per hour. But she tried it and in a short time started feeling a lot better.
Since open-heart surgery two years ago, I have taken a golf cart for virtually every round. But in the run-up to my Scotland trip this last week, I walked a few miles every other day on a tread mill and vowed not to give in to the temptation of taking what the Scottish refer to as a "buggy." It is embarrassing to toddle around in a golf cart while other 70-somethings are keeping a brisk pace (and there are a lot of older gents walking the Crail courses).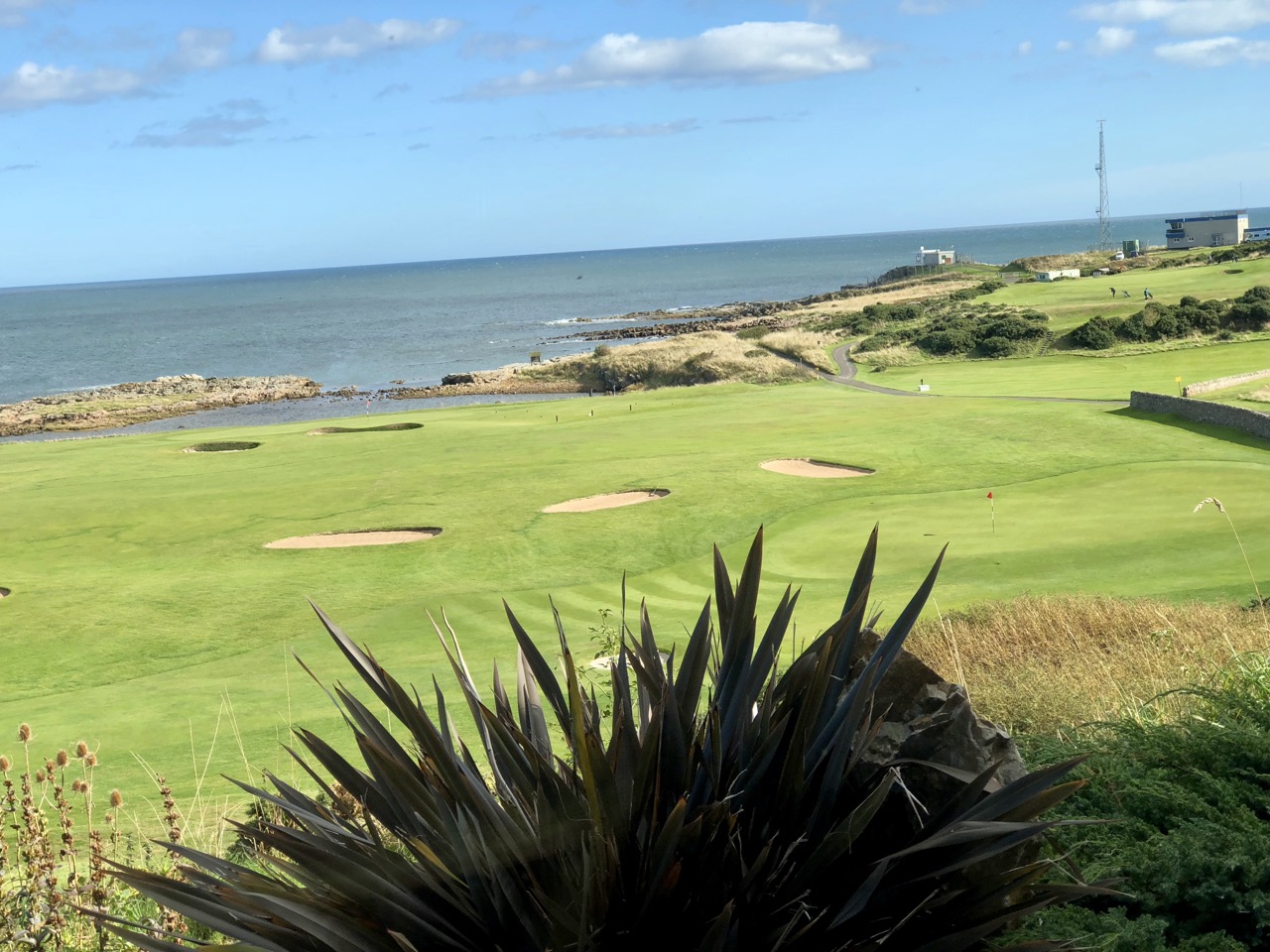 View of the 15th and 18th holes on Balcomie Links from the Crail clubhouse.
I have now walked five courses this past week, and my iPhone tells me that totals 28 miles (including a couple of miles of non-golf-course walks). I am diabetic, and my blood sugar readings this week have been way lower than typical, and I feel more stamina every day. I can't wait to get home and walk my local course. I have begun pricing online those battery-powered "trolleys" that eliminate the need to push and pull your bag up hills; you walk along with your clubs, and the battery caddy will never misread a putt for you. The return on investment is probably about 10 rounds given that live caddies, with tips, command at least $80 per round these days (and many of them are of no help reading putts).
I am not ready to commit to the two hours of daily walking that adds up to 10 miles, but I have already demonstrated to myself the benefits of five miles daily. Long live the Scots, literally.