A couple of friends decided to meet for a round of golf and a meal two weeks ago. We live about four hours apart -– Glenn in New Jersey and me in Connecticut – and Patriot Hills Golf Club in Stony Point, NY, was about two hours from each of us. We love the game and enjoy each other's company and, as extra incentive, I promised Glenn I would buy us both a superb pastrami sandwich after the round (at the New City Kosher Deli, one of the best outside of New York City).
The radical changes in elevation on the Patriot Hills course, the distractingly beautiful mountain vistas behind virtually every green, cart-path-only restrictions because of soggy conditions, the six-story-high tee boxes, blind shots to fairways and greens, my current golfing slump and Glenn's hip replacement operation earlier this year provided us with plenty of excuses for our poor play.
But the golf played second fiddle to the bonhomie of the day. We were matched with a twosome from New York City, both hale fellows well met, who had made their own 1½ hour drive to the course. Glenn, who is not fond of gaps of silence and has a quip always at the ready, would have made a great radio announcer. As our New York companions made comments about the golf course or a particularly bad shot, Glenn would weigh in with a relevant pun or original witticism. Okay, some were not knee slappers, but these guys apparently weren't used to being matched up with golfers of good cheer, and they seemed to have a great time. We had a lot of laughs during a round of otherwise forgettable golf.
Glenn bought me a beer in the clubhouse after, and the lady bartender laughed at a few more of his off-the-cuff remarks. We learned from her that the dozen or so beautiful and large stone buildings adjacent to the golf course were formerly part of a home for the mentally challenged, called Letchworth, which opened in 1903 and closed in the 1990s. In its day, it was legendary for its high quality of care and research on mental disease. (I learned later that one Letchworth researcher had discovered that a simple change of diet was the cure for a specific form of mental disease.)
In less sensitive times, such a place was referred to as an "insane asylum." That realization caused Glenn and me to consider the intersections of such an institution and the mental challenges of golf. In the wake of the terrible quality of our golf at Patriot Hills, Glenn rued the fact Letchworth was no longer open for business.
"We could have driven right over from the 18th green and checked ourselves in," he said.
A mere three days after our round, Glenn suffered a massive heart attack while he and his wife Carol were staying at their favorite golf resort in New Jersey. After heroic efforts by the medical staff at the local hospital, he passed away there yesterday. He was 68.
Just before we said goodbye after our pastrami sandwiches, we talked about my upcoming trip to Scotland. "Please take me with you," he said, half-kiddingly. In a way, I will be doing just that.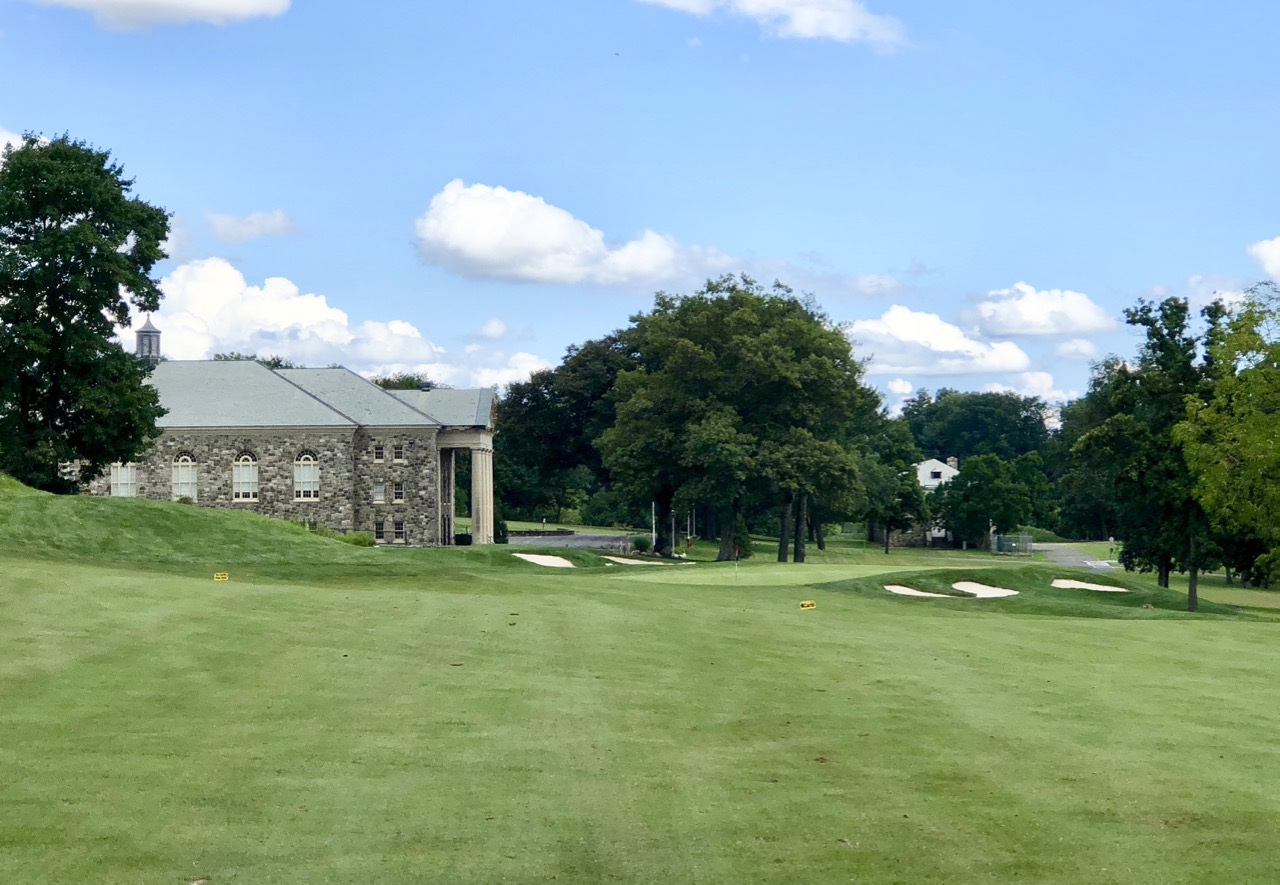 A dozen or so stone buildings are still standing on the property adjacent to Patriot Hills golf course. A few are used by the town of Stony Point, but most lie abandoned. They formerly housed Letchworth, an institution that cared for those with severe mental diseases.