Check out the first photo below. It was taken just after my son and I finished 18 holes of golf last week at Gillette Ridge Golf Club in Bloomfield, CT. The practice putting green was also buzzing. Nothing remarkable about a full practice area before a round of golf, but this was at 6:15 pm…on a Tuesday...on a layout that was jammed with players right through the afternoon. (As we headed for the parking lot after the round, I overheard one employee say to another that the last booked tee time was 6:45!)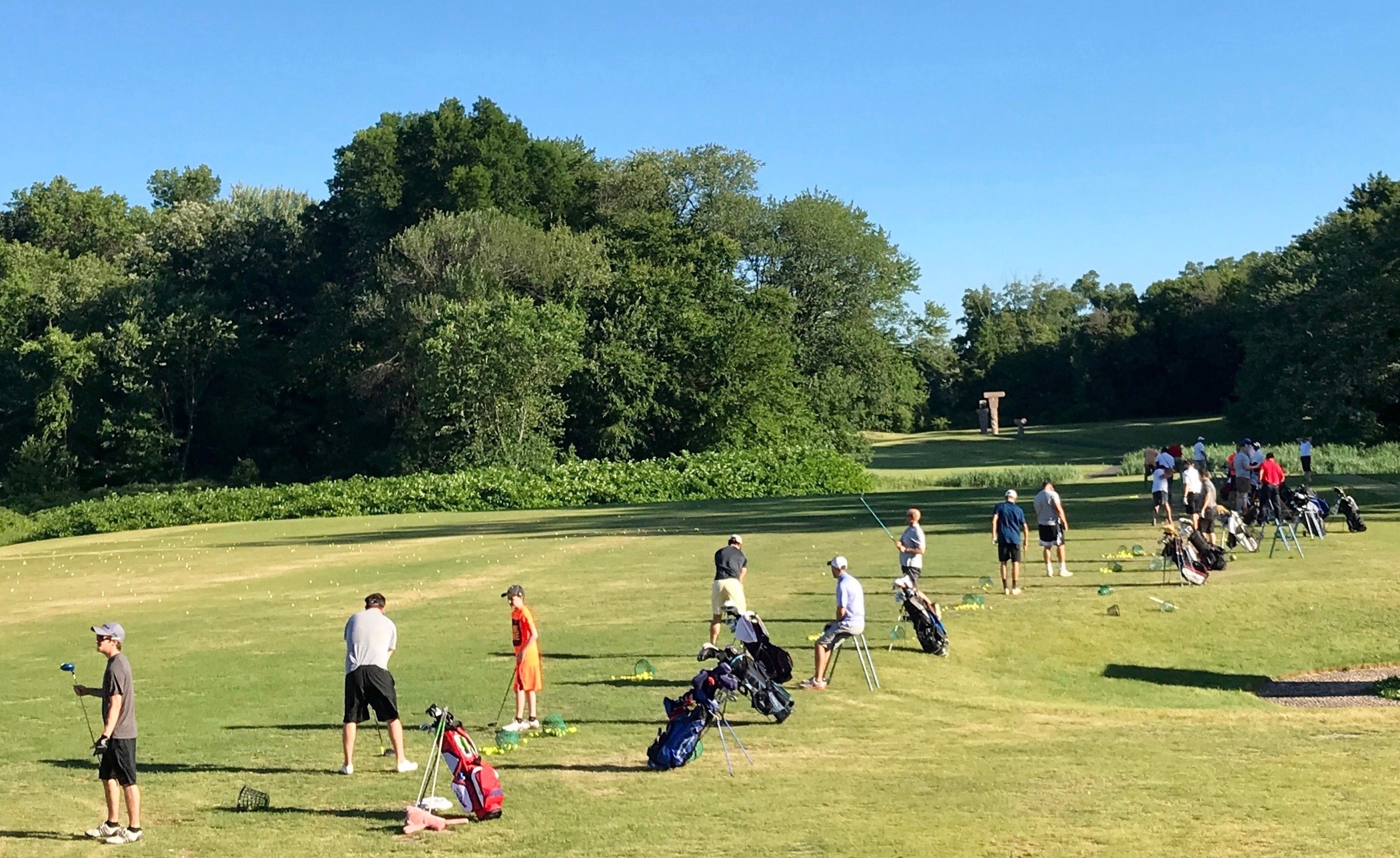 Practice range at 6:15 pm on a weekday at Gillette Ridge Golf Club in Bloomfield, CT.
Gillette Ridge is not even the best golf course in town; that distinction is held by the town's own course, Wintonbury Hills, a Pete Dye routing about three miles away that is more fun and typically in better condition than Gillette Ridge, whose reputation was sullied in the mid 200s after it opened; it was way too firm and with mostly impossible approach shots that would give Bethpage Black a run for its money. No one went out of their way to play a layout that demanded full carries to the concrete greens, with the expected results of finding hazards and rough beyond. If there is anything we golfers, pros and amateurs alike, loathe it is a golf course that penalizes good shots.
Gillette Ridge paid the price for its difficulty as golfers shied away, especially when the recession hit. It closed a few years ago and reverted to its original owners, CIGNA, the giant financial services company whose offices abut some of the fairways and whose dining patio overlooks the practice areas and 10th tee. CIGNA reopened it last year, put Arnold Palmer Management in charge, and it is in much better shape, softened slightly but still as much of a challenge as you will find on any public layout. Rounds of 4 ½ hours are not uncommon.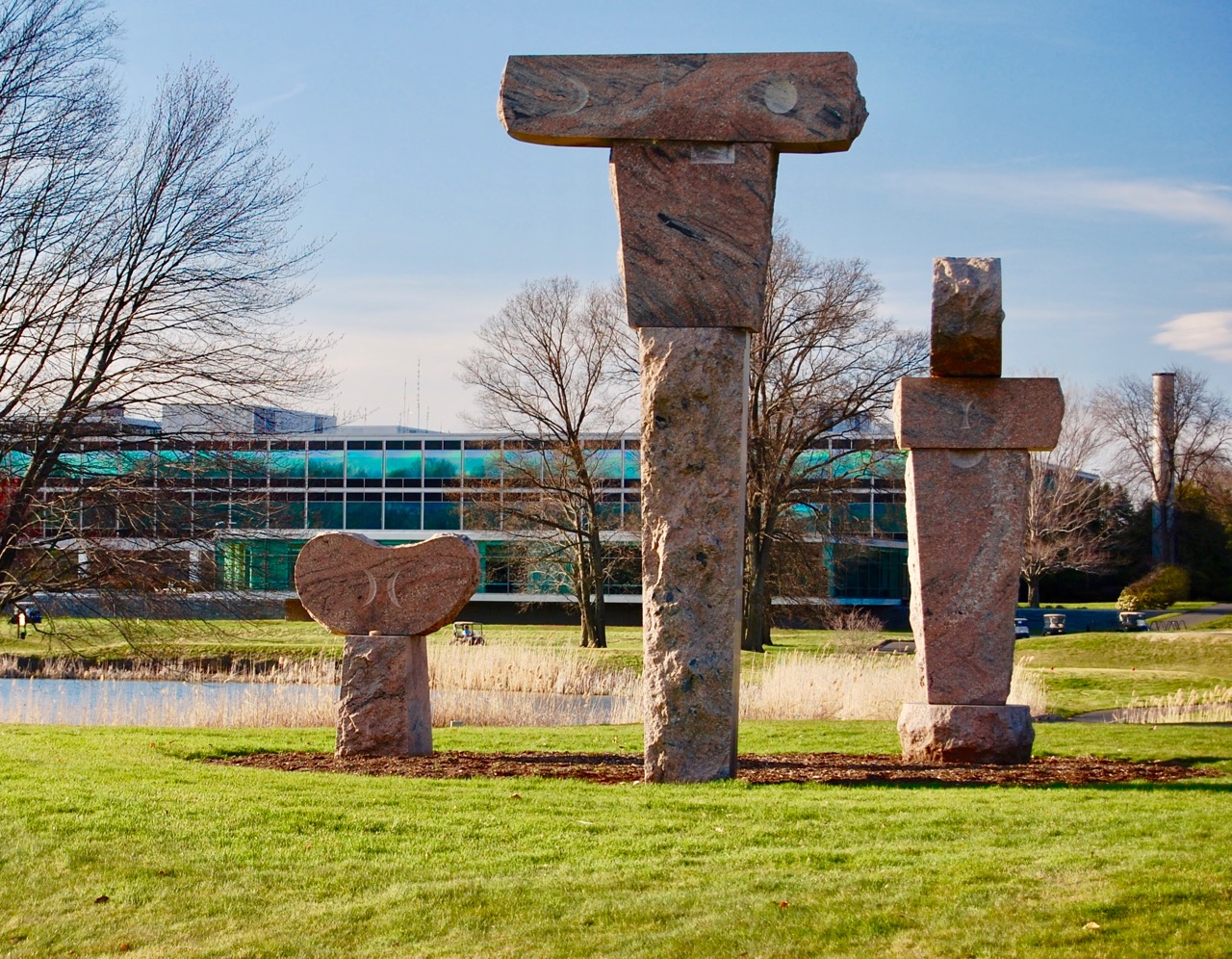 Built inside an office park, where many workers take strolls during their lunch breaks, Gillette Ridge sports some unique accessories.
There is enough in a round at Gillette Ridge to rope golfers back in, especially those who admire quirky golf design. The par 5 11th hole –- formerly #2 before the club switched the nines a month ago –- starts off as a relaxer, with as wide a downhill fairway as you will find on any two- or three-shot hole. Blast one down the middle or right side, making sure to avoid huge bunker well to the right, and you will catch a 40-yard slope that can put the low double-digit handicapper –- that would be me -– within striking distance of the green. Playing from the executive tees, I was just 175 yards from the center of the green, but all carry over a menacing large pond; the bailout area to the front and left of the green was actually smaller than the green. I chose my 3 wood, which I have been hitting about 185 on the fly lately. I felt that if I hit it solid I might get a little spin and wind up at the back of the green. I certainly wasn't going to be short, and I wasn't going to lay up with a half wedge. I hit the fairway metal a little fat; it just cleared the water and bounded to the left rear of the green, in the fringe, leaving me a rare eagle putt. For an aging boomer, any putt for eagle is cause for celebration. (I made birdie, by the way.)
Another par 5 at Gillette is equally unusual yet offers no opportunity for an eagle putt, even for excellent ball strikers. That is #8, where you must avoid menacing fairway bunkers on the left side almost 200 yards away for a senior golfer like me, and then hit a routine layup to wedge distance. But the green is a thin strip running front left to back right, firm and pretty fast and with a steep falloff to a stream bed below right. A shot that finds the fringe is a major achievement given how hard it is to hit and stay. I hit my best drive of the day just over the bunkers, caught the downslope behind them and wound up with a five-iron layup. But the pin on this day was up front on the narrowest part of the narrow green, making even a lob wedge tough to hold. I skittered to the back fringe with my lob wedge and was happy with par.
Gillette Ridge visitors will either love or hate #13, a drivable par 4 (242 yards from my senior white tees, 273 from the more burly blue tees) with a series of menacing bunkers surrounded by deep rough protecting more than half the green on the left, and trees guarding the right side of the green, ready to gobble up slightly pushed drives. Helpfully, the Palmer designers placed a big mogul short and to the right of the green. If your drive finds the left side of the mogul, it could very well kick onto the green. I wound up in the rough just short and right of the green from my tees but was able to make par from there.
I find that the realistic possibility of putting for eagle on a par 5 and driving the green on a par 4 is fair compensation for Gillette Ridge's idiosyncrasies. In a future post, I will state the case that Gillette Ridge and its local counterparts could make for an interesting golf trip in the Greater Hartford Connecticut area. Seriously, Hartford.