Twice this past Memorial Weekend I played in golf events for which the format was a "Scramble," or "Captain's Choice" if you prefer. Simply put, a four-player team selects each of the best shots during a hole and every member of the team plays from that spot. The "Captain" in Captain's Choice makes the call on where the shot should be played but, in reality, it is almost always a team decision. The idea of a scramble is to build camaraderie amongst the team members.
In our first scramble of the weekend, on Saturday, I and two neighbors plus my son visiting from Florida comprised the team at the Mike Strantz Memorial outing at Caledonia Golf & Fish Club in Pawleys Island, SC. (See immediately prior posting here.) Since we were all low double-digit handicaps and below -- my son Tim played college golf and sports a scratch handicap – we took the event seriously. No team was assigned a handicap but we knew there were some excellent players involved. We figured a score in the low 50s would probably win the day; as it turned out, our 60 was eight shots off the pace. But we had a lot of fun as well as a few highlight shots for all of us.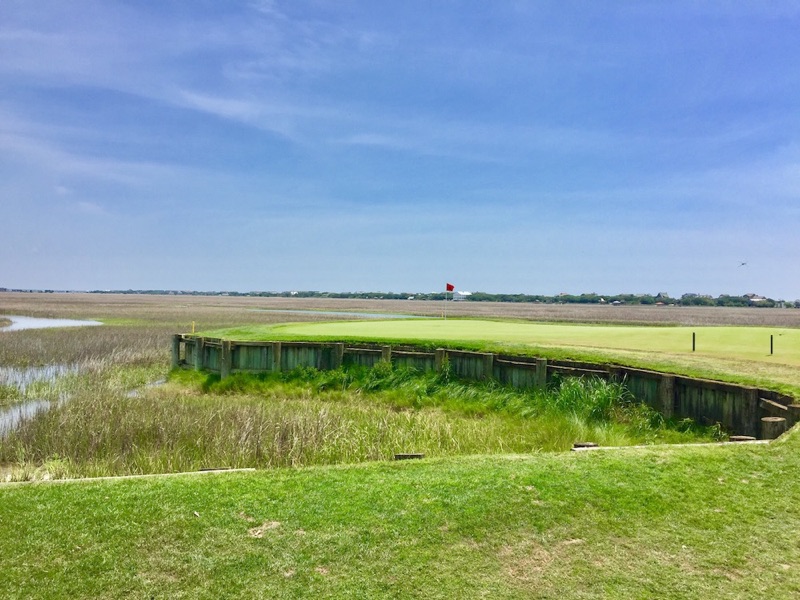 The par 3 13th at Pawleys Plantation, where our group posted our only bogey.

The Memorial Day scramble at Pawleys Plantation did employ handicaps but this was more a social event than a golfing competition. As a "member mixer," teams were picked at random and flighted by aggregate handicap; my team had a total handicap of 92 which adjusted our final score downward by 3 strokes. Although I have owned a condo in Pawleys Plantation for 20 years and been a member of the club for that time, I had never laid eyes on my three teammates before Monday. Ceil is one of the better women players in the club and Tony and Bacil, both celebrating life in the 80s, which was also the temperature for the day, were all delightful companions. We ham and egged it around the tough Pawleys course, aided by our ability to play from the senior tees (and Ceil from the ladies tee). Our net total of 65 that included six birdies and only one bogey fell one short of first place in the #1 flight. (My son's team finished first.)
I know that some good golfers complain about scrambles, that it denies them the opportunity to play their own ball and challenge the golf course without the burden of having to play from where someone else's ball came to rest. In our competition, each member of the foursome had to contribute at least one drive per nine holes, and it added an element of strategy and drama to the round. (One of our teammates was not very long off the tee, and as we came toward the end of the front nine, we suggested he play short and to the left side of a par 3; he executed it perfectly and we got up and down for an easy par.) Anyone who takes golf so seriously that they can't occasionally play the game purely for fun should avoid scramble events.
The real scramble on Monday was in the totally mixed-up, random composition of the teams, and I made three new friends over the course of four hours and at the dinner afterward. The $25 in pro shop credit we each earned was a nice little bonus.