The other day, I selected at random a bunch of homes currently for sale in top quality golf courses and, using the online real estate service Zillow, checked their sale prices before the 2008 recession against their current list prices. In virtually all cases, values have not rebounded since 2007, in most cases not even close. So while sales seem to be proceeding at a fairly good clip in the better golf communities, sellers are not getting pre-recession values out of their homes. One takeaway: Golf homes in the better golf communities are good investments because in many cases they are well below their historical highs (see below).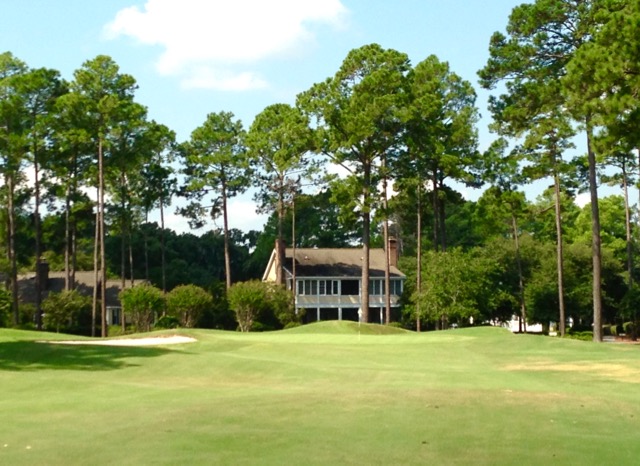 One home in Wachesaw Plantation, Murrells Inlet, SC, is currently listed at $660,000, $225,000 less than its value 10 years ago.
The reason I embarked on this experiment was because a customer currently living in Pinehurst, NC, on one of the nine, famed Pinehurst courses filled out one of my Golf Homes questionnaires, requesting my assistance in the search for another golf-oriented home. I checked their current address on Zillow to see if their home was currently for sale; it isn't, but Zillow estimates a current value of $461,000 (what they call a "Zestimate"); in 2007, the house sold for $700,000. Ouch. This caused me to select a number of our favorite communities and pick one home in each currently for sale to compare to its 2007/2008 selling price. The results were pretty startling.
My first stop was our own vacation condo in Pawleys Plantation, Pawleys Island, SC. We purchased the unit in 2000 for a price in the low $200s, and by 2007, it had a value of $377,000. I was feeling my oats back then, but according to Zillow, the condo is now worth just $306,000. The story was the same elsewhere I looked:
Landfall, Wilmington, NC
2007 $725k
2017 $599K
The Landings, Savannah, GA
2007 $807k
2017 $698k*
Cliffs at Walnut Cove, Arden, NC
2007 $1.4m
2017 $1.175m
Wintergreen Resort, Nellysford, VA
2007 not available
2017 $450k
2015 $500k
Reserve at Keowee, Sunset, SC
2007 $680k
2017 $567k
Wachesaw Plantation, Murrells Inlet, SC
2007 $925k
2017 $660k
Palm-Aire, Sarasota, FL
2007 $462k
2017 $425k
Grand Harbor, Vero Beach, FL
2007 $190k
2017 $135k
Imperial Estates, Naples, FL
2007 $307k
2017 $265k
As stock brokerages are required to state, past performance is no indication of future performance. But real estate prices in the U.S. typically return to past high prices. If you believe in the U.S. economy, then you can believe that an investment in a home that lags its historical highest price by double-digit percentages might be a good investment.
Comment
Be the first to comment