My wife and I finally got around to two large boxes of newspaper clippings we had saved beginning around 1985, when we moved to Connecticut from New York City. Most of the clips were restaurant reviews of local establishments or recipes from the weekly food columns in the Hartford Courant. But buried among them were a few articles about vacation real estate. And as the sweep of history tends to demonstrate, the more things change the more they stay the same – well almost.
A Hartford Courant piece on "Investing" dated August 25, 1990 touted one expert's choice of "hot spots for second home" in its headline and focused on the Bend-Sunriver, OR, area and Steamboat Springs, CO, as well as ski areas Killington and Sugarbush in Vermont. But for those who prefer beaches to snow, the article said, three waterfront towns received high marks – Amelia Island, FL; Marco Island, FL; and Myrtle Beach, SC.
We haven't visited Marco Island, but by reputation, it is both a highly prized and highly priced suburb of Naples, which sports a wider range of housing options. (Note: In the 1990 article, the real estate expert noted a two-bedroom bungalow villa priced at $60,000; things have changed a bit in 25 years.)
We have a much better feel for Amelia Island and fancy ourselves somewhat expert on the subject of Myrtle Beach, where we have owned a vacation golf condo in Pawleys Island for 15 years and where we made our first golf trip in 1969. Amelia is a resort, about 20 minutes from Jacksonville and close by the charming seaside town of Fernandina Beach. Resident club members have to fight visiting golfers for tee times at the resort courses, but Longview, the Tom Fazio designed course that is essentially private -– resort guests have some privileges -– is a wonderful alternative. After some financial difficulties at the onset of the recession, the resort is now owned by the Omni Group which seems to be steering a steadier course.
Back in 1990, according to our retrieved article, Myrtle Beach had actually benefitted by the destructiveness of 1989's Hurricane Hugo, the insurance-backed repairs having helped to "spruce up and modernize many condominiums that frankly needed it badly." A quarter century later, many area condos could use an additional rehab, although we wish for no devastating hurricane as a fixer upper. The fact is that, given Myrtle Beach's reputation (and reality) as primarily a golf vacation destination, the area has been slow to snap back from the recession that began around 2008. Of course, that represents a buying opportunity for those looking for either a vacation home for a few weeks a year or a year-round golf-oriented condo or single-family home. We are perpetually confused and miffed at why flights to Myrtle Beach from the Northeast consistently cost three times as much as flying to Charleston, 90 minutes (by car) farther south. If Myrtle Beach's town fathers ever get their act together and cajole the airport authority into solving the cost of flights in and out and other image issues, Myrtle Beach could be a "hot spot" again. Until then, bargains abound.
Myrtle Beach Area Golf Communities to Consider
The Myrtle Beach area stretches from Georgetown in the south to the South Carolina/North Carolina border on the north end, a distance of about 60 miles. Given that the area boasts 100 golf courses, Myrtle Beach could be one of the densest golf destinations in the world. For those who choose a vacation home in the area, the number of private clubs are outweighed by daily fee and semi-private clubs about 95 to 5, making membership in any one club almost superfluous –- as does the consolidation of golf club ownership in the area. A member of the National Golf Management group of courses, for example, has more than a dozen golf courses at their disposal for deeply discounted prices and a nominal annual membership fee.
Pawleys Plantation, Pawleys Island, SC
Jack Nicklaus 18-hole semi-private golf course
Mix of condos, townhomes and single-family homes
Prices range from low $100s to $1 million
65 minutes to Charleston airport, 40 minutes to Myrtle Beach
DeBordieu Colony, Georgetown, SC
P.B. & Pete Dye 18-hole private golf course
Single-family homes from $500,000
60 minutes to Charleston airport, 45 minutes to Myrtle Beach
Note: Only beach in gated community on SC coast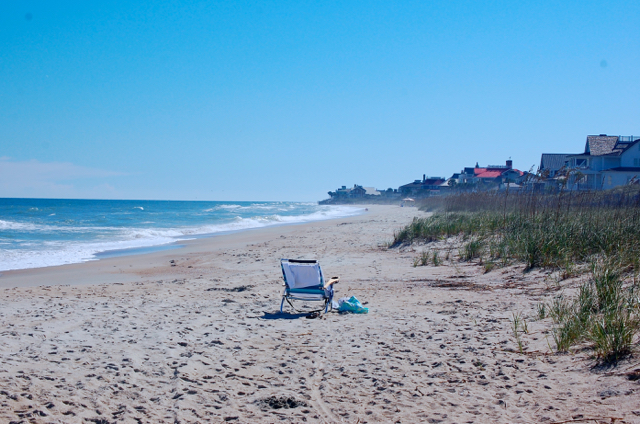 The beach at DeBordieu Colony is the only one on the South Carolina coast behind the gates of a golf community.
Reserve at Litchfield, Litchfield Beach, SC
Greg Norman 18-hole private golf course, owned by McConnell Golf
Villas, cottages and single-family homes
Prices range from $400K to $1 million-plus
Note: Member accessed beach 1 mile away
Wachesaw Plantation, Murrells Inlet, SC
Tom Fazio 18-hole private golf course
Cottages and single-family homes
Prices from $200k to $1 million-plus
Note: Beach, "Restaurant Row," hospital w/in 5 minutes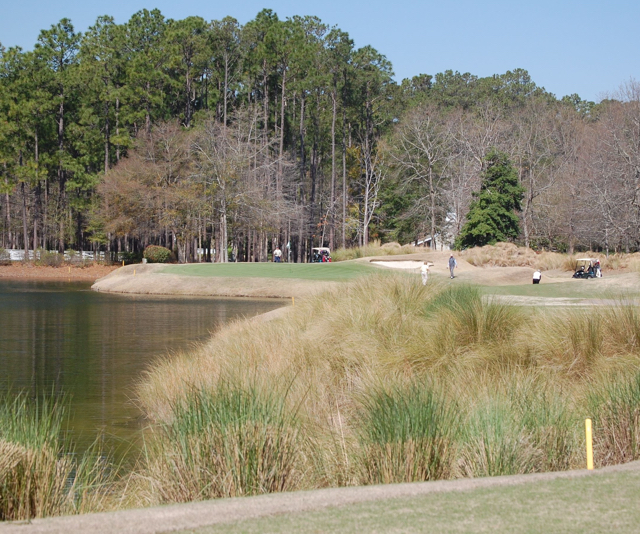 The par 3 7th at Tom Fazio's Wachesaw Plantation is one of the toughest one-shotters on the entire Myrtle Beach Grand Strand, with no bailout opportunities for the faint of heart.
Legends Resort, Myrtle Beach, SC
Three golf courses by Doak, P.B. Dye & developer Larry Young
Single-family homes from low $300s.
Note: Hoping bagpiper still plays every late afternoon.
Grande Dunes, Myrtle Beach, SC
Schreiner/Price 18-hole "Members" golf course
Rulewich 18-hole "Resort" golf course
Single-family homes from $330K
Note: Just to west of Intracoastal Waterway but within a mile of ocean.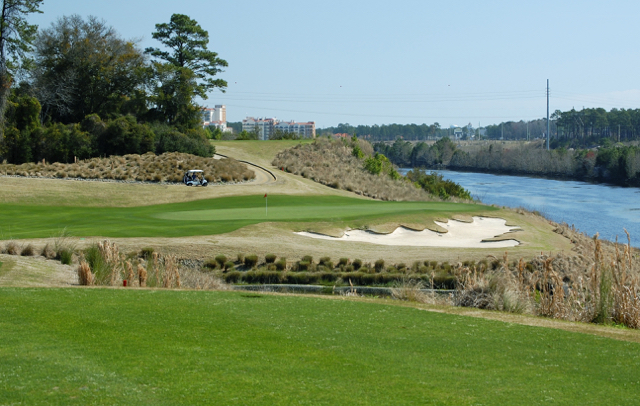 The Intracoastal Waterway slices its way through the Myrtle Beach area, providing both hazardous scenery for golfers at Grande Dunes' Resort Course.
Barefoot Resort, North Myrtle Beach, SC
Four golf courses by Fazio, Love III, Dye and Norman
Condos and single-family homes from $200s
Note: Davis Love course features "ruins" behind 4th green
Note: There are dozens more golf communities in the Myrtle Beach area to fit every price range and style of play. Please contact us for more information or to build an itinerary of golf community visits in the area.
Comment
Be the first to comment