In recognition that many folks are on vacation this month and may not want to spend too much time online, the August Home On The Course newsletter -– subscribe for free by clicking here –- will feature short-form reviews of golf communities we have visited over the past half dozen years.  It was quite the challenge to reduce our typically pages-long reviews to Twitter length – 140 characters, spaces included, or less.
        The following is a taste of what you can expect in the August issue of Home On The Course, which will be ready by the end of the week. (Note:  If you would like a longer description of any of these fine golf communities, please contact us.)
Callawassie Plantation, Okatie, SC
Refined yet unpretentious, off beaten path yet 20 minutes from charming Beaufort.  27 holes of Fazio golf. Couple of properties <$1,000.
Dataw Island, SC
36 holes by Fazio and A. Hills (one of our faves). Well-established; out there in the marshland, but still just 25 minutes to Beaufort.
Wild Dunes, Isle of Palms, SC
Walk to beach and two golf courses. Minutes from mega-shopping in Mt. Pleasant. Great seafood. Now if only #18 would stop falling into sea.
DeBordieu Colony, Georgetown, SC
Private golf, beach. Hear, smell ocean from P. Dye layout, but $3M homes command oceanfront. Short bike ride to beach from $500K+ homes.
The Reserve at Litchfield, Litchfield Beach, SC
Join private club – easy-walk Greg Norman layout -– and gain access to 7 other great clubs in Carolinas. Access to resort beach 1 mile away.
Spring Island, Okatie, SC
Old Tabby Links one of highest rated in SC. Live oak paradise minutes from Beaufort. Grandly appointed homes begin just under $1 million.
The Reserve at Lake Keowee, Sunset, SC
Beautiful lake, Nicklaus golf, big active clubhouse, all amenities, devoted members. Cottages in $400s a bargain. Wear orange; near Clemson.
Woodside Plantation, Aiken, SC
Multi-golf course (three layotus) community near charming inland town. Strong equestrian area. All the usual amenities keep residents busy.
Snee Farm, Mt. Pleasant, SC
Classic G. Cobb golf course in mature community, perfect for older-home lovers. World-class shopping, restaurants, services 5 minutes away.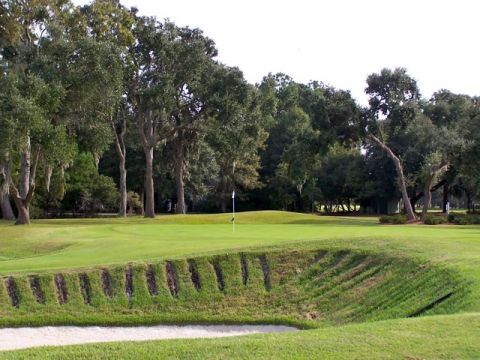 Pete Dye's unbiquitous railroad ties are on display at DeBordieu near Georgetown, SC.
Comment
Be the first to comment