Today's "Friday Journal" section of the Wall Street Journal has a front-page feature under the heading "Fore Sale." The article could have been cut and pasted from Golf Community Reviews articles over the last five years, including a reference to "free" and $1 lots for sale in Colleton River, the upscale golf community in Bluffton, SC with Pete Dye and Jack Nicklaus golf courses.
        As we wrote as recently as April, some owners of lots at Colleton River and elsewhere are willing to practically give them away in order to get out from under the obligation of $17,000 in dues and other fees every year. Some of these owners were speculators who believed leisure residential real estate prices were a rocket ship upward; others were serious about eventually building their dream golf home on a nice golf community lot but were whipsawed by the recession and drastic drop in property values as potential buyers went underground.
        There is not much new in the Journal article but its examples of homes currently for sale in some upscale golf communities shows the carnage wrought by the market and the opportunities available for those who are ready to move and take advantage of some extreme bargains. If you are in that category, please contact us and we will put you in touch with real estate professionals who know these golf communities and their bargain properties.  For a few current listings in Colleton River, check out properties for sale at GolfHomesListed.com.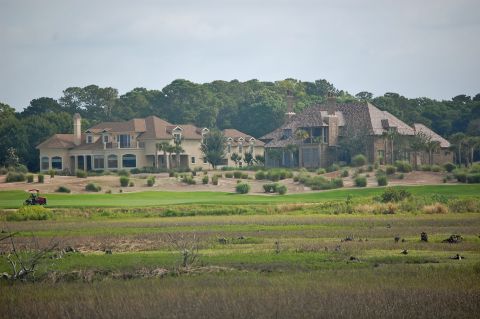 At Colleton River, you can find a nice wooded lot for just $1 and live not far from multi-million dollar huge homes.
Comment
Be the first to comment