T
hose who would write off golf because it is too difficult to play, too expensive and takes too long to complete a round are really saying that the game has lagged behind people's expectations for what constitutes relaxation and fun.  So, the question is, how to make it more fun.
        As we will discuss here in the coming days, no less than Jack Nicklaus has recommended that golf courses be shortened to 12 holes to respond to the frustrations of beginning golfers and the time crunch of busy ones.  During an experimental 12 hole tournament for all ages at his Muirfield Village Golf Club over Labor Day weekend, holes were enlarged nearly 100% (to almost 8 inches) and all golfers moved one tee box ahead from where they typically drive the ball.  Nicklaus said the experiment was a great success.
        Ken Kirkman, developer of the Carolina Colours golf community in New Bern, NC, recent told us that his Bill Love-designed golf course had hosted tournaments in which competitors rolled a die to determine from which of the six teeing grounds they would drive their ball on each hole.  Other tournaments at Carolina Colours called for moving back one tee box when you birdied the previous hole or up one when you bogeyed.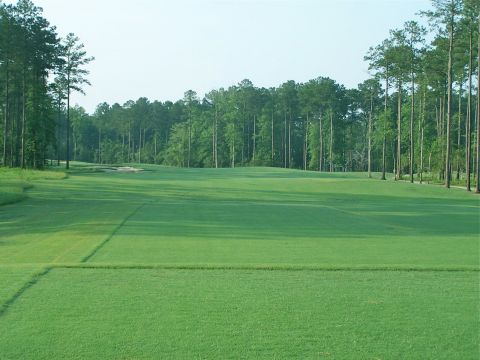 No suprises:  The Bill Love designed course at Carolina Colours (first hole above) features wide fairways, multiple tee boxes and few homes adjacent to fairways.   
Photo courtesy of Carolina Colours.

        People have invented plenty of other ideas to make golf more entertaining, including teeing the ball on every shot, including putts; restricting to three or four (in some formats, just one) the number of golf clubs you can use; and even teeing off from your knees.  But before we overreact with gimmicks to the dire prophecies of golf's demise, it would be wise to consider something else Ken Kirkman wrote me about the golf course at Carolina Colours, which I toured before it opened but have not yet played.
        "My goal with my architect [Bill Love] was to create an attractive course, not hemmed in by homes, with relatively wide fairways, limited forced carries (at least from the shorter tees) and a variety of holes that allow use of all clubs in the bag," he wrote. "No trick shots, no hidden surprises."  In other words, a golf course built for fun for virtually all ages and abilities.  We look forward to playing Carolina Colours and to reviewing it here.
        Editor's Note:  New Bern, NC, is a charming and historic town (birthplace of Pepsi Cola).  The well thought out and designed Carolina Colours features new homes from the $200s.  Please contact us for more information or an introduction to Carolina Colours.
Comment
Be the first to comment