I spent Friday at the TPC of River Highlands golf club in Cromwell, CT, watching the PGA tour pros tackle one of the most interesting and popular courses on tour. Although the likes of Tiger Woods and Phil Mickelson were not there, such major titleholders Harrington, Cink and Goosen brought out the crowds. In the crowd and wearing the red shirts of the hundreds of Travelers Championship volunteers were residents of the surrounding community, a combination of traditional neighborhoods and a planned group of homes adjacent and above some of River Highlands' fairways.
Across the nation, some excellent golf courses in planned communities play host to annual pro tour events. Some residents are not crazy about having their course closed for a couple of weeks – and trampled by spectators – but most appreciate the opportunity to rub elbows with the pros and see how they perform on the course the members play all the time.
In the case of River Highlands, the pros are doing quite well. Justin Rose leads at 14 under par after two rounds. You can follow the action on CBS this weekend. In the coming weeks, I'll have more to say about golf tour events inside golf communities.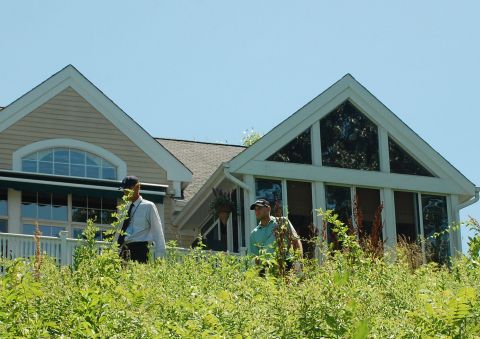 PGA Tour player Bill Haas (right) and a tour rules official begin their descent from above and beside the 15th green at TPC River Highlands. Haas hit his tee shot on the driveable par 4 into the weeds, declared his ball "unplayable," and elected to take a drop at the top of the hill, in a resident's backyard (the normal out of bounds line did not apply during the tour event). Haas wound up with a double bogey 6 and missed the cut.
Comment
Be the first to comment