Should I live long enough to hit the Power Ball lottery and build my own golf course, I would do well to build it around a creek. Or at least include the word "creek" in the club's name. The names on Golfweek magazine's list of top 100 residential golf courses for 2010 include more creeks than oceans, ranches, valleys or even lakes.
The Rock Creek Cattle Company in Deer Lodge, MT, tops the list this year, supplanting the perennial top-two Wade Hampton in Cashiers, NC (#3 this year). Even though hot designer Tom Doak had a stunning 350 acres to work with, the close proximity of greens and tees encourages walking. Home sites on the 85,000-acre property range in size from 2 to 110 acres and in prices from $350,000 to $1.2 million.
Tom Fazio's Diamond Creek course in Banner Elk, NC, holds down the 16th spot on the list, with another Fazio layout, Bright's Creek in Mill Spring, NC, ranking #23. In all, 13 "Creek" courses are ranked in the top 100.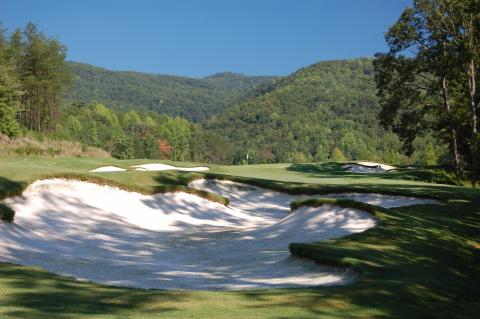 Tom Fazio's Bright's Creek made the Golfweek list at #23.
Bright's Creek (Fazio), which I visited in 2008, has been struggling to sell real estate after completing its golf course and warm and inviting lodge. Its owner developed Forest Creek in Pinehurst; the two Fazio courses there both made the top 100 list. Prices in Bright's Creek, which is nearly an hour from both Greenville and Asheville, range from the high six figures to the low millions and will appeal to those looking for most of their pampering on site.
I was pleased to see the Golf Club at Briar's Creek make the list at #55. Things have been slow to evolve at the 900-acre community on Johns Island, near Charleston, but the Rees Jones course and the low density approach to living along the marsh will appeal to those who want both a secluded setting and proximity to a major, interesting city. Not too far away, and even closer to Charleston, Daniel Island's Rees Jones Ralston Creek course just squeaked onto the list at #99. Daniel Island includes neighborhoods of high-end single-family homes (near the Jones golf course) as well as Charleston-style town homes that abut the Tom Fazio course.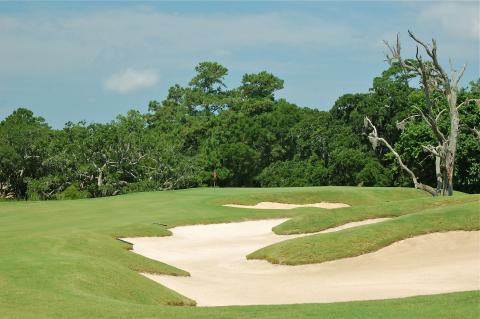 Golf Club at Briar's Creek (Rees Jones), #55
Other clubs I have visited and recommend made this year's list. The Golf Club at Cuscowilla in Eatonton, GA, on the edge of Lake Oconee, dropped to #13 after a few years in the top five. The Coore & Crenshaw course, a little over an hour from Atlanta, is 10 years old and open to the public. One of my favorite courses, and certainly the best Arnold Palmer layout I have played, hits the list at #40. Old Tabby Links on Spring Island, near Beaufort, SC, is about as carefully tended as any course can be; when I played it, workers were hand picking offending blades of poa annua from the first green. The layout, which meanders through marsh, wildlife refuges and a forest of live oaks, lives up to the standards of conditioning as well.
I haven't played Bull's Bay just north of Charleston, SC, but I have watched it grow since it opened in 2002. To get a strong taste of what the late Mike Strantz had in mind for Bull's Bay, just stand on the front porch of the clubhouse and look out to a layout that appears to have been designed by tracking the flights of swallows. It dips, it swerves and it swirls around signature Strantz waste areas. Lots are currently available from $275,000 to $550,000, most with views of the course.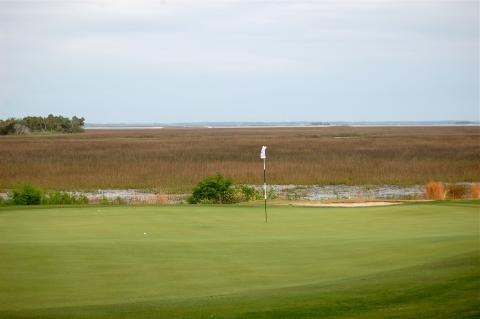 Old Tabby Links at Spring Island, SC (Palmer), #40
A couple of Bluffton, SC communities I visited made the list, barely. The Nicklaus course at Colleton River, which will have its 20-year anniversary in 2012, tipped in at #85 while its companion Pete Dye course is not on the list. Belfair, another Tom Fazio-designed layout, as are many in the Bluffton area, anchored the bottom of the list at 100.
For all the publicity and advertising behind them, you would think more than just one of the Cliffs Community's six courses would be on the list. But if Golfweek could tap only one, they chose the right one with Fazio's Keowee Vineyards layout weighing in at #97. It will be interesting to see how Golfweek ranks the Cliffs at High Mountain sometime two or three years from now when Tiger Woods -- whom we hope is okay after his car accident early yesterday -- completes his work there.
Bottom line: With any of these courses, you will not be up a creek. If you are interested in learning more about any course on the list, contact me and I will provide you with more information and arrange for a visit.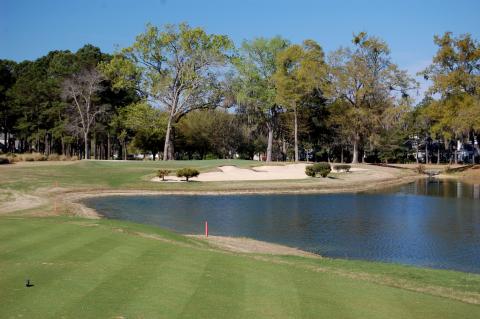 Belfair (Fazio), Bluffton, SC, #100
Comment
Be the first to comment