Miners staked "claims" when they found gold. A miner's claim was his place to mine. In the beginning, miners respected each other's claims. As more miners arrived and the gold became more difficult to find, claim jumping became a problem, and often ended in violence.
-- from a web site dedicated to the California Gold Rush of 1848
Like testosterone-crazed teenage farmers competing for the prize of biggest pumpkin at a 4-H competition, golf course communities try to jump each other's claims of having the best this and the biggest that. With more communities competing for fewer customers in the suddenly dried-up market, the claims are getting more far-fetched, ranging from the blindingly self-evident to the inscrutable to the wild.
Trying to appeal to our inner-CEO, the Rarity Communities of Tennessee, for example, reminds us that, "There is no surer way to succeed than to invest in your own happiness." That was news to me. I am going to sit my teenage children down and tell them hard work, as it turns out, isn't the best path to success. And I thought "Don't Worry, Be Happy" was a song, not a life philosophy.
Golf communities, especially those in the mountains, love to invoke Mother Nature in their copy. But we remember the old Chiffon margarine commercial whose tagline was, "It's not nice to fool Mother Nature?" A new community, Dominion Valley in Haymarket, VA, tries to fool the old lady anyway, claiming Dominion Valley was "Designed to take full advantage of Mother Nature's splendor." With a "natural" nickname like The Golden Bear, Jack Nicklaus is more sensitive and careful. Of his design at The Reserve at Lake Keowee, Nicklaus and his copywriters say, "I really co-designed the course with Mother Nature -- complementing the gorgeous, natural features already here." We wonder if Jack contributed half his design fee to environmental causes in behalf of his co-designer. Probably not since he adds, with some degree of hubris, "It was my job to find the course hidden in the hills and along the lake." Sounds as if Mother Nature has been fooling
us
.
Claims of a paradise on earth are the mother lode of much golf community advertising. "The dazzling beauty of Mount Vintage Plantation will take your breath away," says the Aiken, SC, community at its web site. Indeed, "breathtaking" may be the most over-used word in golf community advertising. "The ways are ancient and the views are breathtaking in this fabled 'Enchanted Land' of the Cherokee," writes the marketing site U.S. Private Communities about Blue Ridge Golf & River Club, a new community in northwest Georgia. The land may now be "enchanting," but it stopped being "enchanted" when the Cherokee were pushed off of it. How tacky.
We love it when communities advertise that they are a Top 100 choice in
Where to Retire
magazine.
Where to Retire
anoints almost exclusively those communities that advertise in its ad-stuffed publication. At least we know publications like
Where to Retire
for what they are, paid-for-hire promotions. A publication like
Resort Living
magazine is an entirely other story. The Cliffs Communities' web site quotes
Resort Living
as saying The Cliffs offers "undoubtedly one of
the most comprehensive private club memberships in the world." Eight golf courses and $150 million in amenities certainly speak for themselves, but The Cliffs does not leave well enough alone: Resort Living is actually published by a marketing firm that represents The Cliffs. Nowhere in The Cliffs promotional material is the connection indicated.
Most other upscale communities seem to be content to rein in the over-heated language, especially those developments that emerged where "old money" once flourished. Although Ford Plantation, as in the former playground of Henry Ford, offers only one golf course, a terrific Pete Dye layout, it is more circumspect about its virtues than is The Cliffs (think Vanderbilts compared with newly wealthy hedge fund managers). The Ford Plantation web site home page shows a photo of the Henry Ford-built clubhouse and a one-word tag that says, simply, "Welcome." You are invited to navigate to other parts of the site, and the notes about the golf course and other amenities are also presented without promotional noise. Form follows function as the overall effect is classy, just what Ford Plantation wants you to think about its community.
Ditto Keswick Estate, just outside Charlottesville, VA, another high-end community that keeps the over-the-top adjectives ("glorious," "spectacular") to a minimum and relies on facts and colorful photos to do most of its marketing. Keswick is managed by Orient-Express, a British firm typically associated with classy properties. Keswick's web site is straightforward about its 48-room former estate house, which accommodates guests, and the private Arnold Palmer course, also available to guests.
Mature, member-owned clubs also tend to avoid hyperbole in their promotional materials. Champion Hills, for example, calls itself, "A vibrant, member-owned community outside historic Hendersonvile, in the beautiful North Carolina mountains. And Tom Fazio's home course." Mountains, Tom Fazio and an historic town speak for themselves. We can forgive the private University of Texas Golf Club its claim to be "the best in Texas" and for its overly clever tagline "The Drives of Texas Are Upon You." The rest of its marketing is straightforward, just the facts, and with a personality in its materials that matches the club's sunny disposition (we visited in September).
Up until last year, building a golf course community was like minting money. Now it is more like owning a condo in Miami. For still emerging communities desperate for traffic and sales in a shrinking market, claim jumping may take on an even more urgent tone. These communities were caught up short by the fallout from the sub-prime debacle after they made major investments in their golf courses, other amenities and infrastructures. The big guys, like Bluegreen Corp and Crescent Communities, should weather the storm without stretching reality too much. But as regional and local developers become more and more desperate, their claims of heaven on earth will become even more hellacious.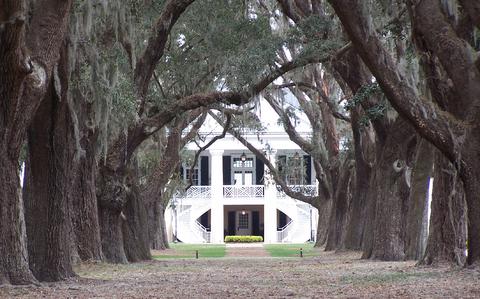 Ford Plantation in Richmond Hill, GA, doesn't make outrageous claims.
Comment
Be the first to comment