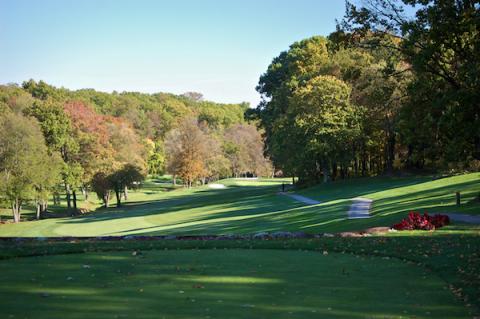 Some of Piney Branch's fairways slope significantly, none more so than at the par 4 12th where a drive that hits the left side of the fairway could find the creek.

In many cases, you can size up a golf course best if you are watching rather than playing. Hitting 80+ golf shots over 18 holes provides an emotional, as well as physical, experience, but following a threesome of decent players around a routing provides more angles of shots and three times as many opportunities to view a course's complexities.
I have an almost complete view of Piney Branch Golf Club after two days of watching five golfers take a combined 480+ shots in a collegiate tournament (one of them was my son, thus the five golfers rather than six). To sum it up, I had not heard of the private Piney Branch but wish I had back when my game was a little more finely tuned. The course looks easy but can be treacherous in its nuances.
Most memorable are the medium-sized greens at the rural Maryland course,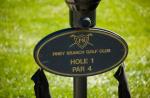 which is located about a half hour south of York, PA. All the putting surfaces are contoured, some severely and others subtly, and it is a fair debate which are easier to putt -- the ones where the break is obvious but significant, or those whose putts you need to look at from all sides carefully because nothing about the breaks are obvious.
On the severely tilted surfaces, it was never a good idea to be above the hole. On many holes, par was more attainable with a chip from short of the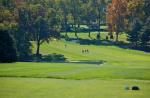 green than a putt from 25 feet. It was refreshing to see a greens superintendent who actually cut the bent grass to a stimp meter reading of somewhere in the 11 area, causing my golf architecture aficionado son to conjure, "This must be what it is like to putt the greens at Augusta." The putting surfaces were slick, and some of the 1 and 2 handicap collegiate golfers three-putted a half-dozen times and more to shoot over 80. The stiff breeze that blew on day one affected some of the longer putts, as well as the approach shots. In short, the greens were playing a lot of head games with the college golfers, and the best score of 142 over the two days was eight strokes ahead of second place.
The Piney Branch layout, by (Ed) Ault Design, features mostly doglegs that swerve toward elevated greens. Most fairways are generous, but a few tilt toward woods and streams, putting three-wood in play on a few of the 400-yard par 4s and at least one of the par 5s. The 12th, for example, a 416-yard par 4, sloped so significantly right to left that a drive to mid fairway rolled into the rough on the left. A creek 20 yards left threatened any drive that landed on the left side of the fairway.
If Piney Branch has a weakness, besides its hard-to-get-to rural location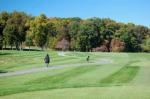 about one hour from Baltimore, it is its four par 3s, whose distances are in the tightest range of any golf course in my memory, 181 yards to 194 yards at the tips, adding up to a rather boring set. With the exception of #7, which is all carry over a lake, the other one-shot holes are fairly banal, except for their putting surfaces, whose complexities make up somewhat for the distances. Also, I thought out of bounds markers encroached in some odd places. On one hole, the stakes guarded a stream that should have been marked hazard rather than OB. On the par 4 4th hole, the stakes were lined up a good 10 yards inside a fence that marked the back property of a home that sat a good 100 yards away. Why not, I wondered, just put the OB stakes at the edge of the fence?
One other gripe of minor consequence: At the practice range, better players can hit their drivers far enough that a few balls reach the middle of the 11th fairway in the distance. This is not a safety hazard but rather an annoyance as you stand on the 11th tee and look down on a fairway with golf balls in hitting range.
Piney Branch was in excellent condition, both on the course and in its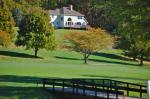 facilities. Pro shop and dining room employees were helpful and friendly despite the crush of college players and family members. Membership fees are reasonable for this kind of quality. Full golf membership initiation is $10,000 for a family, with dues of $333 per month (plus a $35 capital assessment). Those who would prefer to play on weekdays pay the same initiation fee but get a significant break on dues, just $217 per month, but retain the same all-week dining and social privileges as the full members. (Note: Weekday members cannot play on weekends even as the guest of another member, nor can they play in club tournaments). For those whose spouse does not play golf, dues are $247 monthly. Members must spend $135 per quarter for food in the clubhouse, which is quite reasonable. I didn't sample the food but overheard a number of parents and players praising the hamburgers and hot dogs cooked outside on the grill.
I did not see a home within 200 yards of the golf course, but a few on the surrounding hills were large and impressive (as was the huge backyard on one of them, whose horses eyed the golfers as they played by). A 6,000 square foot, six-year-old brick colonial that sits above the 6th hole is currently listed at $1.175 million and features 5 bedrooms, 4 ½ baths and more than 5 acres of property. Less than a mile away is a turn of the century home with a front porch and "tenant house" that could generate extra income, as well as a barn, all on more than two acres (an additional three acres is optional). It also includes three fireplaces, four-car garage, in-ground pool and a price-tag of $555,000. The town of Hampstead has enough services to satisfy everyday needs, but for a more elaborate array of restaurants and shopping, suburban Baltimore offers plenty at just about 30 minutes distance.
Piney Branch Golf Club, 5301 Trenton Mill Road, Hampstead, MD. 410.239.7114. Web: PineyBranchGolf.com. Par 71, Yardages/Rating/Slope: Blue tees 6,870/73.7/132; White tees 6,516/72.0/128; Red tees 5,318/72.0/128. If you would like more information or a real estate contact in the area, please let me know (use the Contact Us button at the top of the page).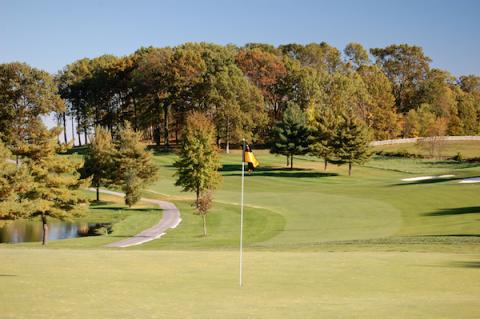 Most of the greens are elevated on the par 4s at Piney Branch. One of the toughest is at the dogleg right 15th.